Our Ghana time was all about family, as Nils' sister currently lives with her husband and son in Kumasi and as we could met some friends in Accra. So we got a completely different insight into the local life and were able to enjoy real Ghanaian cuisine. Let us take you through local Accra in this first part of our blog posts about Ghana.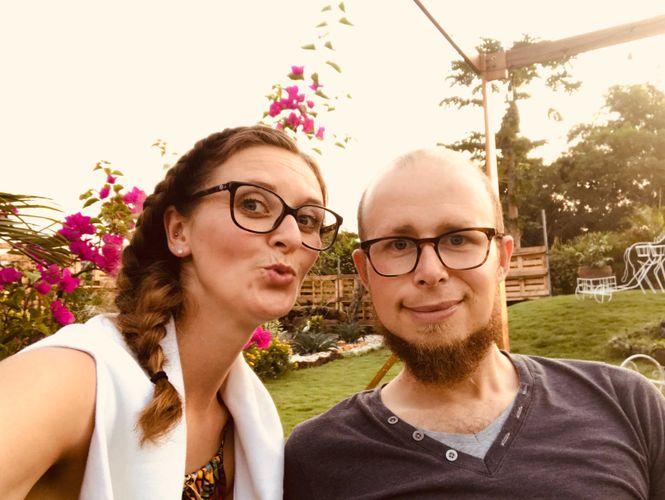 ---
A special welcome in Accra
We landed in the capital Accra, where we were picked up by our two friends Bentel and Bismark. Bentel surprised us with a very special pick-up service, because he arrived with a Porsche Cayenne. Since he works as a car dealer it was no big deal for him, but we found it somehow funny to suddenly drive in such a car in Ghana.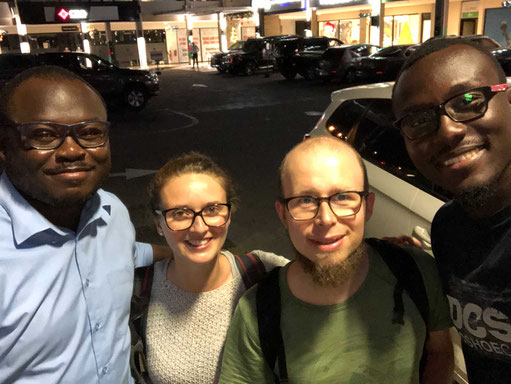 They took us to one of their favourite restaurants - a restaurant chain called "Starbite" which you can find all over the country and serves different western as well as local dishes. We slept at Bismark's house a little outside of Accra. Therefore we had to struggle again and again through the never ending traffic in the capital. But the hospitality and friendship of him made us forget all the strains and we had a very nice time with both of them.
---
Uber in Accra
Let us say a few words about the crazy traffic in Accra: If you ever go there, you have to be prepared to spend a lot of time in the car and especially in traffic jams. This may be stressful, but it's not something you can change at the moment. In any case, plan much more time for the journey. This already starts with ordering the Uber, because that can take a while as well. Make sure that the riders actually know where to go, because many don't look into the app and prefer to be navigated by you over the phone. The Uber drivers will often tell you that their AC is not working. Let them demonstrate you if it works or not - we had the experience that the AC was working actually quite often.
---
Local food places in Accra
In Accra we worked a lot for our #modernworktour: For this we met with different people and also did exciting interviews. For this reason there was little time to experience the capital of Ghana for tourism, but we can still recommend a few places where locals meet.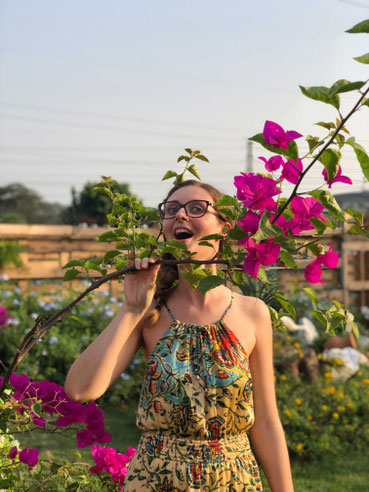 Vida e Cafe - is a café chain that attracts especially young people. Mostly there is an indoor and outdoor area where people sit and work, but also just enjoy the time for leisure. 
Vista Royale Hotel - can be described as a business hotel, where various mainly work-related meetings are held. However, the service was just OK for the price, as was the food.
Hyde Garden - is a brand new venue in Accra, which we would like to recommend to you. It is a kind of garden with a bar and relaxed seating, but it is also a place to hold presentations or lectures. It is superbly located and we wish the young team every success in transforming this small oasis into a firmly established event centre. 
---
See you again in Accra
Our meeting with Lina and Hartmut probably belongs to the stories "Small is the world": On our first #modernworktour we already met Hartmut in Albania, where he worked for the German Chamber of Commerce. A short time later he moved to Ghana, where we met for an entertaining evening for a reunion.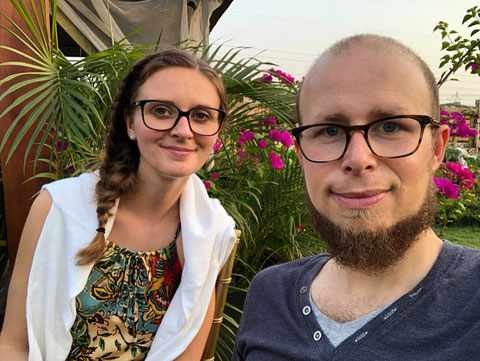 ---
Conclusion
Apart from the traffic, Accra is definitely worth a visit. Make sure you find accommodation in the centre or on the coast to avoid a lot of driving. And then just enjoy the country and its people, in this young and dynamic city that offers good food as well as exciting art and culture.
---
Related Posts