Our travel continues and this time we enter completely new territory for us, because it goes to Africa. In the next four months we will be at the west and east coast as well as in the south of Africa. We will travel to a total of nine countries and we are already very excited about the new adventure. In this blog post you can read how we succeeded in entering the African continent in Senegal.
Also this time we will not only simply travel, but also work again on the way and deal with foreign working cultures. For our #modernworktour_africa we have chosen Dakar in Senegal as a very gentle and relaxed entry into the continent. Since 2015, EU citizens no longer need a visa for Senegal, which is why the entry worked without any problems. It was also very important to us that we had the opportunity to acclimatise in the country. Especially on the last tour we noticed how important it is to take care of yourself and take the time to do so. For this reason we also chose a special treat as our accommodation.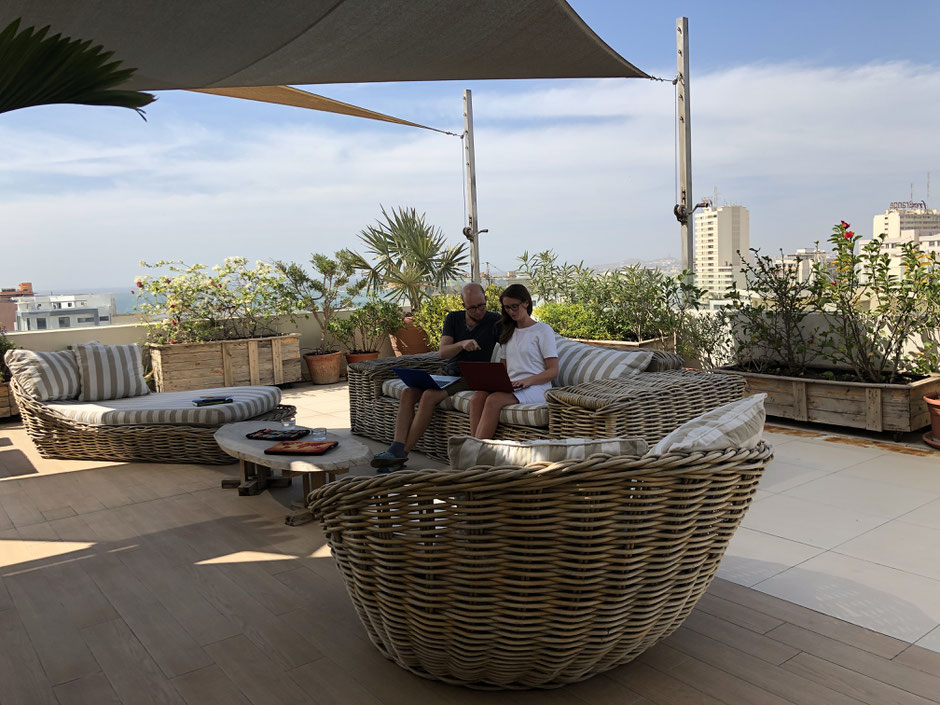 ---
Our Rooftop Retreat at the Dakar Plateau
In December Senegal has on average zero rainy days, which is why an open-air living room with two large sun sails seemed very attractive to us. At that time, we did not consider that the Senegalese capital Dakar is located directly at the Atlantic Ocean and that the wind there can be quite strong. During the seven days we always had a cool breeze blowing around our noses, but we could still enjoy the Airbnb apartment very much and would go there again any time.
Why we liked the apartment so much depends on the following points:
The location: The district Dakar Plateau is in the southernmost part of Dakar and can be seen as a business district. Our apartment was located in the middle of embassies, schools and museums, which made it quieter and less bustling in the evenings. On the first morning we were awakened by the songs from the cathedral of Dakar, which seemed heavenly.
The equipment: The apartment itself was already a blast, but when we discovered the great equipment with the comfortable furniture on the terrace and the BOSE sound system there, we were completely convinced. Our hosts Amadou and Indou even provided us with mobile internet and we jumped into the comfortable bathrobes every morning. 
The view: No matter what time of day the view from the terrace was a feast for the eyes. But our personal highlight was that during this time there was a whole crowd of swarming kites on the their route back the south. It was a very special atmosphere then.
---
Dakar Yoff
One of our first trips through Dakar led us to the Yoff district, where you can find the mosque de la Divinte and the monument of the African Renaissance, a 49 meter high bronze statue. This district seemed to us to be unagitated and inviting with its vegetable and fruit stalls. In the shade of the mosque there is an active fishing community, fishing in the traditional way with net, fishing rod and harpoon. Also located here is the Impact Hub Dakar, where people are brought together to set up support programs in the country.
---
dakar medina
As the name of the quarter suggests, this is the old town of Dakar. It is a very interesting place because it is very busy. Depending on which side street you turn into, you will find upholstery, car repair shops, food stalls and cattle everywhere. As in the past, people live here with pets like cats and farm animals like goats or chickens in the middle of the city.
---
Food in dakar
Of course, we also wanted to get into the African continent while eating and are reasonably satisfied with Dakar. It was already clear to us in advance that Africa is demanding for vegetarians and with a look at the menus this was also confirmed to us. What one should know when travelling in Senegal is that it is not so easy to find fresh vegetables and fruits. Only in big supermarkets you can find them and otherwise at the stalls that you have to find first. The cheese and wine selection in Dakar is quite good.
In each quarter we found a restaurant that seemed to us to be very cosy or tasty. 
Leopold Sedar Senghor French Institute in Dakar Plateau: This is a cultural centre with a cinema, restaurant and theatre stage. At noon there is a rich buffet and also business people meet here.
Le Gallard Restaurant in Dakar Medina: At first sight it doesn't look like a restaurant and the sign at the entrance is broken, so it's not easy to find. But it is an insider tip from our hostess, as they serve local dishes that are very tasty.
La corne d'Or in Dakar Yoff: The golden croissant has a terrace overlooking the mosque and serves western dishes that are fine. The atmosphere is cozy and in the evening certainly nice for a cocktail.
---
conclusio
If you want to explore Africa we can highly recommend starting in Dakar. It is easy to come around with taxi, you have delicious food and the people are friendly. Speaking french makes life easier - similar to France, people often don't speak English.
---