Lagos is energy! It is one of the most vibrant cities we have been to so far. Lagos is the former capital of Nigeria and the biggest city in Africa. Around 20 million people are living here, working here everyday and commuting up to 3 hours per way – each day. You will see really really poor people, really rich as well and from slum to high end everything is present here. Find out in this blog post what we experienced during our time in the vibrant heartbeat of Africa - Lagos
The people in Lagos
Let's start with the most important topic – we met incredible friendly people wherever we went. This includes the officers, policemen with machine guns, Uber drivers, all our hosts and staff as well as people we met for our #modernworktour_africa. The big smile you get when you start interacting with people is heartwarming. "How are you" is the first question you always get. When you ask back, specially all the security staff who let you in and out of the different building, restaurants etc., they will show you a big big smile. We never expected people to be that friendly towards to us. Most outstanding is the energy people in Lagos have. They are really proud of being a Nigerian citizen, living in Lagos. People talk loud, laugh even louder, scream and shout each other. All of this can happen in a minute. Our impression – they just have way more energy than we have.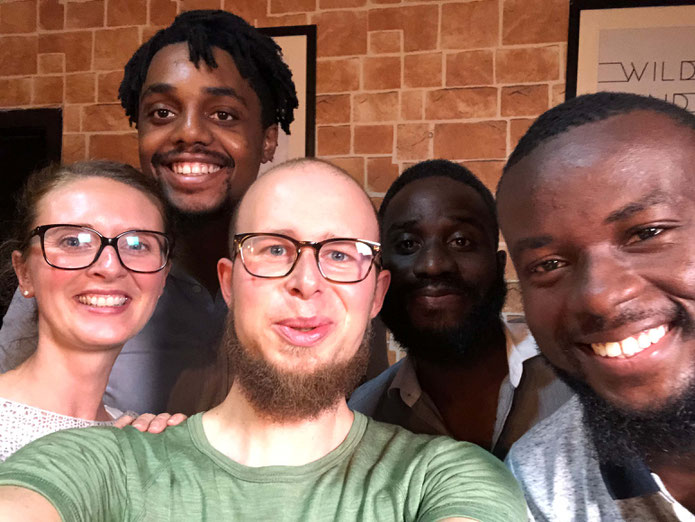 ---
Colors and how people dress
Men are wearing chic outfits, quite stylish ones. European men could adapt a bit an if you are planning to visit Lagos - dress and suit up! More colours, more fancy details. We loved it. The women are a different league – the hair is often done in a wonderful ways, with mind blowing curls, with interesting ways how to structure it. The colours of the dresses are amazing. It suits the vibrant vibe you sense here. It is hard to look away, because the elegance, the attitude is just fascinating. European ladies –let's wear colours, too. An dit was amazing to see how traditional and modern clothes were combined by young women as well. It spices up life for sure! Anna was amazed.
Traffic in Lagos– a complete disaster
Traffic is the worst we have seen on our travels to more than 50 countries. It is normal to get stuck in traffic – each and every day. So a route, where you normally would need 20 minutes can take you up to 1 hour or longer. For longer distances (and we are only talking about Lagos) you will need much more time, patience and resistance. Due to very old cars (there are some luxury cars as well) the pollution is high – the air is hard to breath with it's strong unhealthy and unfiltered emissions. For all our meetings we always planned in at least one more hour – to be in time when we arrive – the 'German Pünktlichkeit' (=being exactly on time).
Uber in Lagos
Uber works great here, so we did all routes with it. It is easy, felt safe and you don't need to negotiate the price. The local public transportation is hard to understand. Plus there are a few private "public transportation" systems, for example. You will see many very old and rusty yellow VW busses. It is a miracle to us, how they still drive. Initially good German production combined with creative ways of fixing them over and over and over again. We have never seen cars broken down at the street.
Where should you stay in Lagos?
We asked this questions to all contacts we had. Most replies were: "Stay on one of the islands" – which we did. Let us shortly introduce you to the three main options:
Victoria Island
This is the business district and the Island which is directly located to the new mega-project Eco Atlantica, which is a new part of the city, completely build by private investors. Many restaurants and bars are here, many expats live here as well.
Ikoyi
Here you have a nice combination of local middle class and expats. The vibe is not business heavy, it is a bit cheaper from what we experienced. We can highly recommend to visit the first vegan restaurant in Lagos called "Veggie Victory". The owners Bola and Hakeem are wonderful hosts and the food is delightful. Try the fried Yam - it the best I ever had (Anna).
Lekki Island
This island is emerging and starting to get more and more interesting. Specially creative people are starting their business here. And it has the famous Nike Art Gallery, the biggest art gallery in Western Africa. This island it the "hipster district" of Lagos.
Additional: Banana Island in Lagos
For the dekadent ones of you: Banana Island. This is the place for the rich people. A rent can easily cost around 12 thousand dollars. It is crazy. We haven't been there, just heard stories and did some research.
---
Our top recommendations what to do in Lagos
Food:
Veggy Victory on Ikoyi. Their specialty is the vegan Suya, wheat and soja on a stick and roasted/ fried. Delicious!
Drinks:
Sabor Bar
You have a nice and modern bar with inside and outside seating. The drinks are excellent and the food looked good, too. It is a bit more expensive though.
Terra Culture
Here you get the best Jollof rice there is in Lagos, at least that is what locals told us. It was delicious. We even took one portion to go.  
---
Lets be arty - let's go to Nike Art Gallery!
The wonderful Nike is one of the most amazing persons we met in Lagos and on our Africa trip so far. Full of energy, deep roots in the community and an excellent eye for art and artists. The Gallery is the biggest one in Western Africa, there is even a street named after it. Over four floors you will find finest African art of very different styles you can imagine. We felt in love with many pieces as well as with Nike. We even were able to record an interview with her for our #modernworktour_africa.
Terra Culture Art Gallery
Here find a unique variety of Art. It is a small Gallery but is definitely worth visiting. And the food is good here too.
So would we recommend Lagos?
Yes for sure! Experiencing the vibe and the energy is electrifying. Of course there are many places you should avoid, specially in the dark. But isn't it something we say about almost all cities?
You should be aware, that it is a city which never sleeps. So it can be noise 24/7. That was hard in the beginning.
The food was amazing, even though the vegetarian options are quite limited. You should come and experience it yourself. Just plan in extra time for everything, traveling through the city takes a lot of time! We heard other stories as well, about robbery, about racism against white people, about getting food poisoning. We can just speak for ourselves – nothing of this happened to us. We were quite aware about being careful, also with all our stuff. It worked out and we are super happy to have met all these inspiring people. Goodbye Lagos, it was an adventure for sure!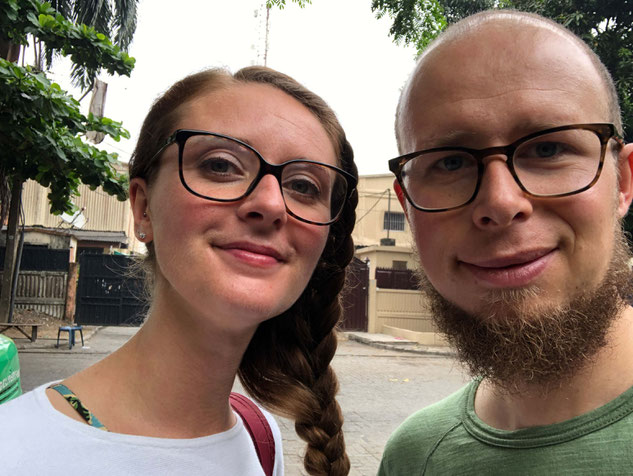 ---
Additional thoughts
Visa is really expensive, we paid as German citizens more than 400 euros, including the trip to Berlin more than 500 Euros. That is crazy! and that has to change in a way...
It happened a few times that credit cards were not accepted. Have some extra cash with you.
We heard from many local people, that the north of Nigeria is a different story - be careful there!
Choose your Airbnb or hotel wisely. It can easily happen that you end up finding no sleep due to traffic noise. We had to change apartment due to permanent noise around 80 decibel. 
Vegetarian food is a bit rare, but there are delicious possibilities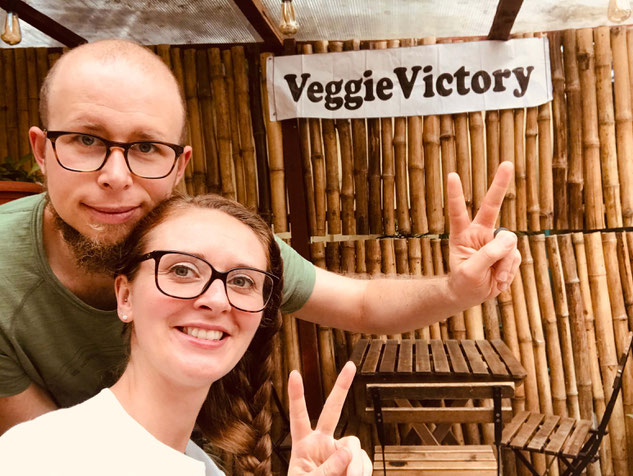 ---
Related posts