Skopje is an interesting city which is marked by long history and new oversized buildings and statues. We decided to go to Skopje because we heard the food is good, and also to have a break on our way to Bulgaria. A pragmatic approach. We are happy, that we choose to stay for a few days with a beautiful loft as our home. In this blogpost you will find out why.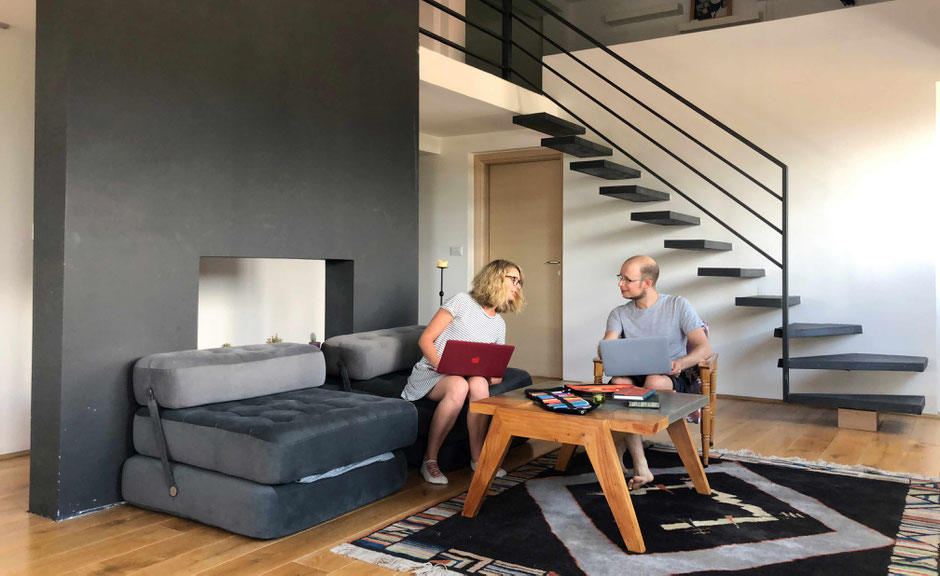 ---
Our Situation
We travelled a lot in the last six weeks, saw many cities, countrysides, had many working meetings with MOWOMIND and had the feeling that we needed a few days and not just a quick stop-over. We invested in a nice place to stay this time in a wonderful and clear loft. It was the best decision we could have made. Having a bit more space than we normally can afford brought us the freedom to feel more relaxed and finally the chance to work in different corners of the loft. We could not afford something like this back in Hamburg, Germany. So we were really happy about this catch for a few days!
---
The Old City
Skopje has one of the largest old bazaars in the Balkan region. You will find the biggest variety of gold- and silver jewellery. We heard that cities like Paris, New York, London cannot compete with Skopje's bazaar. And this story fits the impression you get, when you walk through all the little streets. You see jewellery in all different forms, most of them quite extravagant and some quite particular. Good traditional craftmanswork. Besides the jewellery in some streets you have the chance to buy old souvenirs from the war, very beautiful warm winter clothes and here and there of course also the typical touristy stuff like shirts, hats and so on. But we never saw an old bazaar with so little trash and so much shiny gold and silver. That was really nice. If you get hungry you can buy traditional food on every corner. You will see more locals than tourists which is also always a sign when it comes to picking a place to eat.
---
The New City
At 5:17am on the 26th of July 1963 there was a very intense earthquake that will never be forgotten in Macedonia. 75% of the people in Skopje lost their home that day, many people died. After making it through two world wars, Skopje was in the city center almost completely destroyed. After that horrible happening the city was rebuild as fast as possible. That is the reason why you almost can't see any 'real' old buildings here.
In 2008 something interesting and weird happened: The new government decided to change the city center completely. They invested a lot of money (in the end more than 200 Million) in redesigning Skopje. When you go to Skopje now you will see hugh ethnic Macedonian heroes and moreover historicized and monumental buildings. Sometimes they build new buildings, sometimes they just added the historicized fassade. It looks a bit crazy and over the top in our point of view, even though it is pretty. The people of Skopje call their city "Kitsch Capital" or "Macedonian Disneyland". Walk through the city and you will get it immediately: Skopje has its own triumphal arch with all the regions of Macedonia on it. Or a 22m high statue of Alexander the Great. Many people were against all these investments and said that it would have been way better to invest in the health and education systems. Nevertheless it was build and now the city center is shiny and tries to look like one of the famous and important capitals of the world. As a traveller it is interesting to experience the vibe in this city, we think as a citizen it is a bit weird.
---
the food
Eating in the city center is easily possible but in our experience not the best choice. We preferred to eat in the district Karposh 2, especially in the 'Zhivko Chingo' street. Here you have a large variation of food and many nice but not so touristy restaurants and bars. The food is less expensive than in the city center and quality wise better!
The City Park
Skopje is surrounded by nice little mountains. When you need a break from discovering the city you have a few nice and sometimes huge parks. We can recommend the city park that is located next to the zoo. Although it really depends when you go there. We arrived in Skopje around 4am in the early morning and went to the park while it was quite dirty. During that morning cleaners came around and cleaned everything. We don't know how often they do that but after that night it was way cleaner the following days.
The Macedonian people we met were really friendly and tried to help us out even though they sometimes couldn't speak English. The less touristic the place the more friendly the people are to foreigners. In our experience Macedonian people have a sweet and nice proudness to their country.
the Bikes
There are a few options to rent bikes and explore the city. We think there is no better way for a faster and environmental friendly way. The cheapest place though is also in the Karposh District 2. A little nice bar rents bikes for small money. Super friendly staff. They told us that providing the bikes for them is not about earning money, it is more about giving people for little money the chance to explore their city. Nice mindset. We would love to find something like this in every bigger city. The world would be a better place.
---
Relaxation in our beautiful loft
So we spent more money than usually for a flat. We saw this one and directly fell in love with it. In real life it looks a little less stylish and it was sadly not very clean but we made it our home anyway in no time. We worked a lot on blog posts during these days, had some other meetings and needed some relaxation time. It was the perfect place for that. Do you experienced that feeling, having a very high ceiling? It just makes you happy, frees your thoughts and let you become creative more easy. I think because you have literally more space to evolve, think and digest. Anyway, for relaxation it was also quite nice. Sadly the owners don't want to get the place promoted, so we cannot write the name of it down.
---
Macedonian Landscapes – the countryside
We only drove through the countryside by bus from Tirana to Skopje and later from Skopje to Sofia, so we have not too many insights about it. But from what we saw the Macedonia landscape is really beautiful. You will find rough mountains and after that beautiful soft landscapes again, as green as you can imagine it. So spending more time, also apart from Skopje can be something worth doing as well. For us maybe next time.
---
Skopje in a nutshell
---
Skopje is the capital of Macedonia and full of contradictions.
It is beautiful, yet some of the beauty seems to be more fake than real. 
It has super friendly people, yet the taxi drivers always tried to play us. 
It has a lot of history, yet you never know what is real history and what not. 
For us the city of Skopje has a standard of a Western European city but with way more influences regarding culture, history and religions. It is worth a trip going there, that is for sure. Exploring Skopje is interesting and doesn't take to long. So it is also a nice destination for a city trip. Money-wise it is a bit cheaper than in Western Europe or the US. For one meal incl. drink around 10-15 Euros.
---