Do you want to know where to stay in Sri Lanka and why Sri Lanka is always a good choice to travel? Take a look at this blogpost and you will find seven beautiful places on the pearl of the Indian Sea. We also made a sketch about each accommodation we can recommend - so you can throw a glance at this charming place and the story behind it.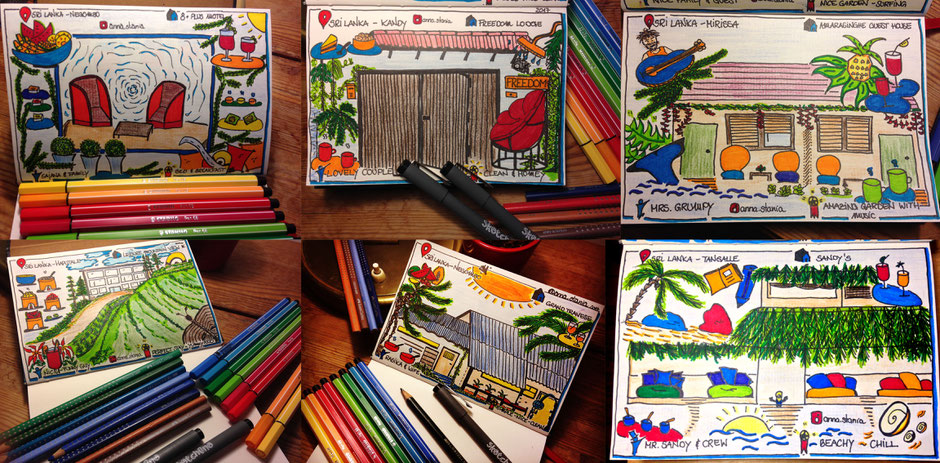 Negombo - Grand Travese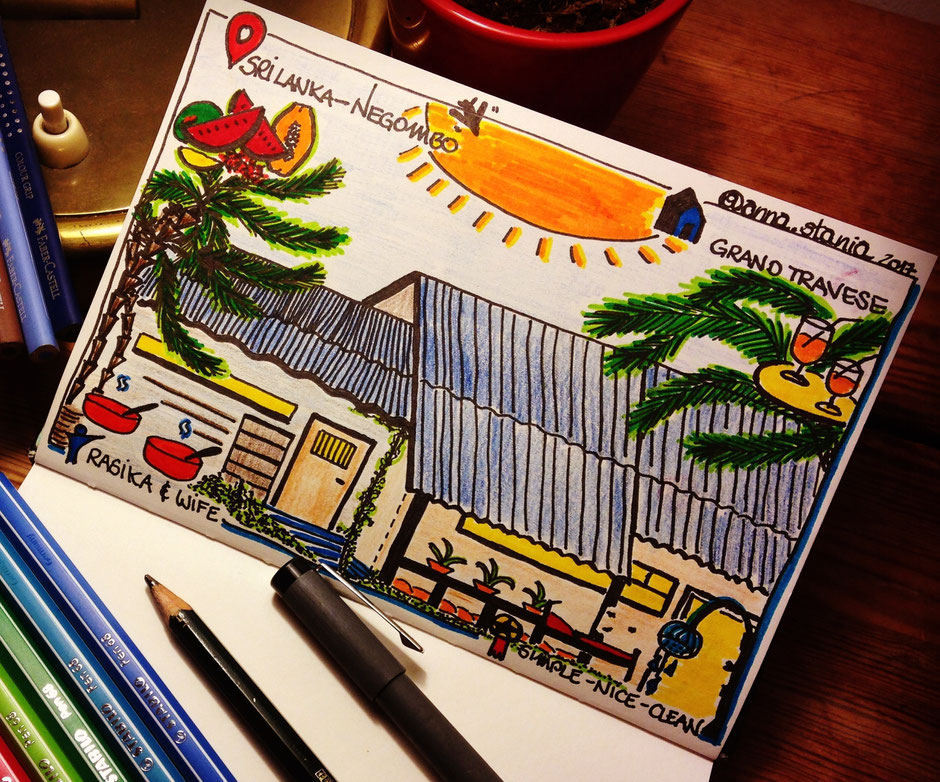 This lovely and hidden place in Negombo is a nice stay for the first night in Sri Lanka. Raskia and his family are welcoming you with open arms and take care of you after a long flight. The rooms are small and spartan but good value for your money at the first days. The backyard and patio offer a lot of space to sit down, realize the Asian heat, smell the heavier air and hear all the tropical noises outside.
We learnt here that the Sri Lankan breakfast is absolutely our taste! Rasika's wife served us each a plate full of different fruits: watermelon, papaya, banana, ananas. It was a really great start of the day and of our journey. The fruits came with some oats mash, which Rasika's daughter had for early breakfast, too.
Kandy - Freedom Lodge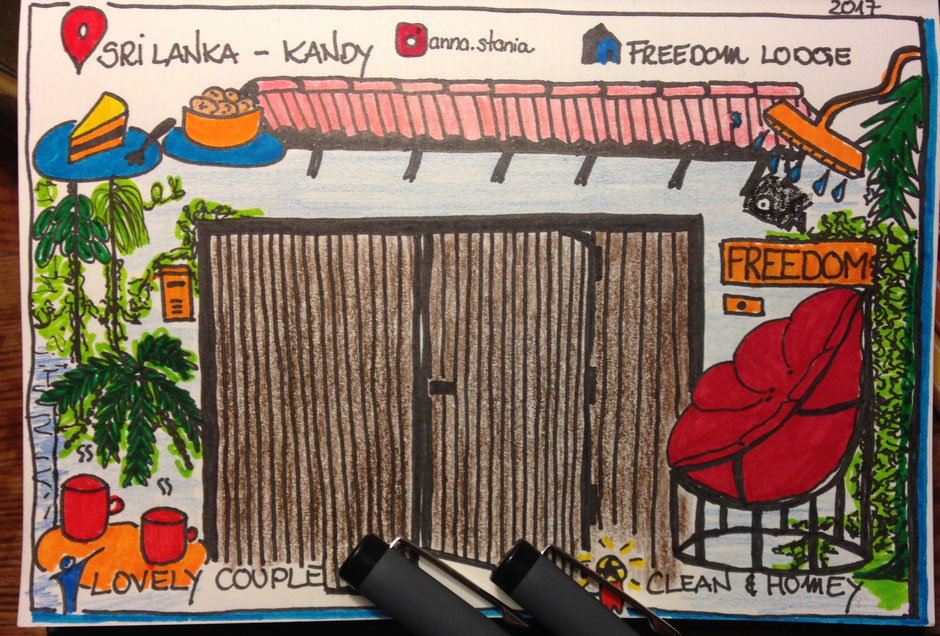 This guesthouse has a very long tradition of guesthouse in Kandy and is managed by a really lovely Sri Lankan couple, who always took so much care of us. When we arrived, they offered us a cup of hot black tea and it always comes with homemade cake. It was so delicious that we often came back for teatime at the terrez of the Freedom Lodge.
The owner told us about a very nice Sri Lankan anecdote, which went along with us the whole trip. He told us, that when you have to make a decision and aren't sure about, you have to hear if the gecko chatters. If he does in that moment while you think about one direction it's a sign to go with it.
Haputale - Leisure Mountain View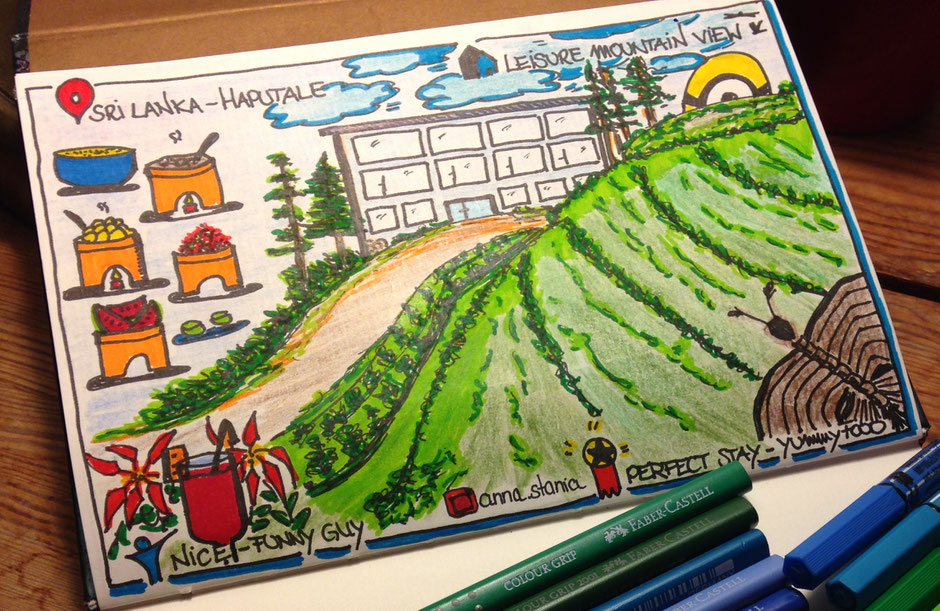 When you like to stay outside of Haputale but in the middle of a tea estate you have to come to the Leisure Mountain View. The owner is a funny young guy, who likes to chat with his guest and is curious about their every day stories. The food is so super delicious and homemade by the mother of the owner and everything is vegetarian. You have a spectacular view over the green beauty of the tea estates and a lot to eat. Especially the buffet styled food is so great and you get a huge selection!
The best way to spend your time there is walking through the tea estate. If you are tired and not in the mood for a huge hiking trip you can just walk through the tea estate downside the guesthouse till the small tea factory at the end of it. There you can get a hot cup of fresh tea and a small selection of fresh cakes.
Or you can just walk a few steps into the tea estate, sit down on one of the great rocks there and watch the clouds - it's better than TV and calms you down. It was wonderful to sit there, we had great conversations and some sunburns. So don't forget sun protection, even if it's cloudy.
Tangalle - Sandy's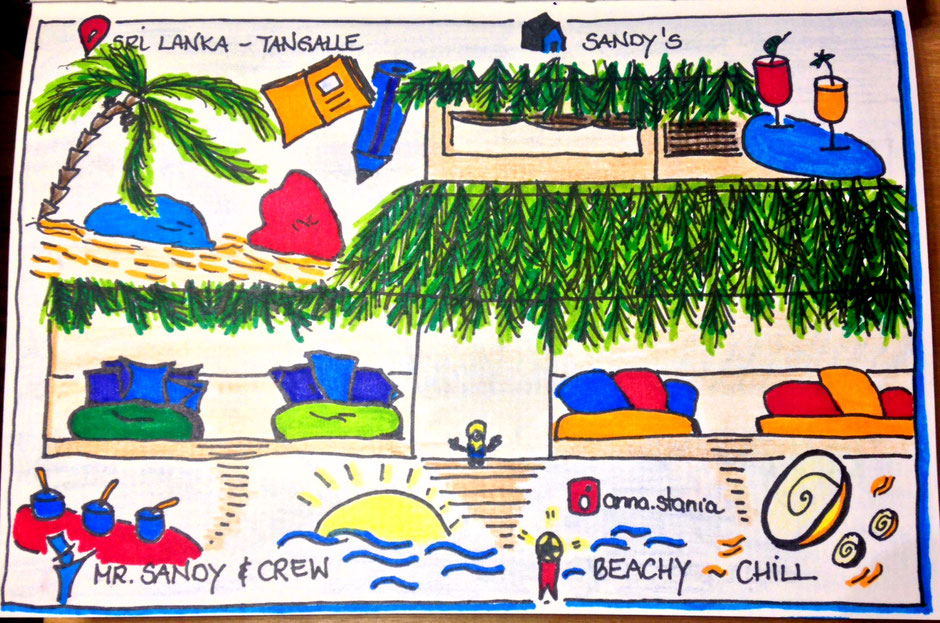 At Sandy's you can enjoy the ultimate beach life at Sri Lanka. Especially when you lay down in the big bean bags on the beach, you will hardly get up again. But actually there are a lot of nice places to relax and to enjoy the free time. At breakfast and dinner you can get a rich buffet which is both Sri Lankan and European. So you can always find something tasty. The cabanas are pretty and probably the nicest one at this beach. We enjoyed to hear the Indian Ocean during the night because we had not windows which made it quite magical. Try to get an upper room, you will have less mosquitoes and a better view.
The owner's name is Sandy and he is very proud of his business. The Tsunami in 2004 destroyed everything and it took him and his employees a lot of time rebuild everything again. At the main cabana you can see photos about the building process. It is impressive and you understand, that the Sri Lankan people are hardworking and proud.
Dikwella - Ocean View Villa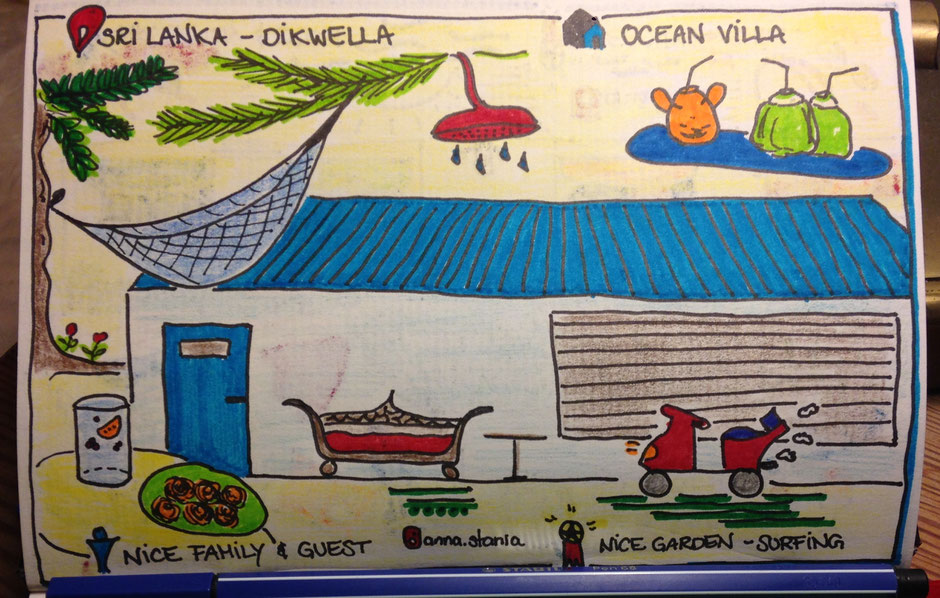 It's a nice homestay with a green und nice backyard but you can hardly see the Indian Ocean. Instead you have the chance to see some peacocks, which are impressive in their natural surrounding. At the Ocean View Villa you also have the possibility to cook by yourself, which is a nice experience because you will probably have some international cooking sessions and find new friends. In our case with French and Russian couples.
In Asia everything is possible: When we asked our host about fresh coconuts and he recognized that they were off, he just jumped on his scooter and went away. After 10 minutes he came back with fresh and delicious coconuts. So nice!
And how you can see we even meet Obama - he is a waiter at a beachclub in Dikwella now.
Mirissa - Amarasinghe Guesthouse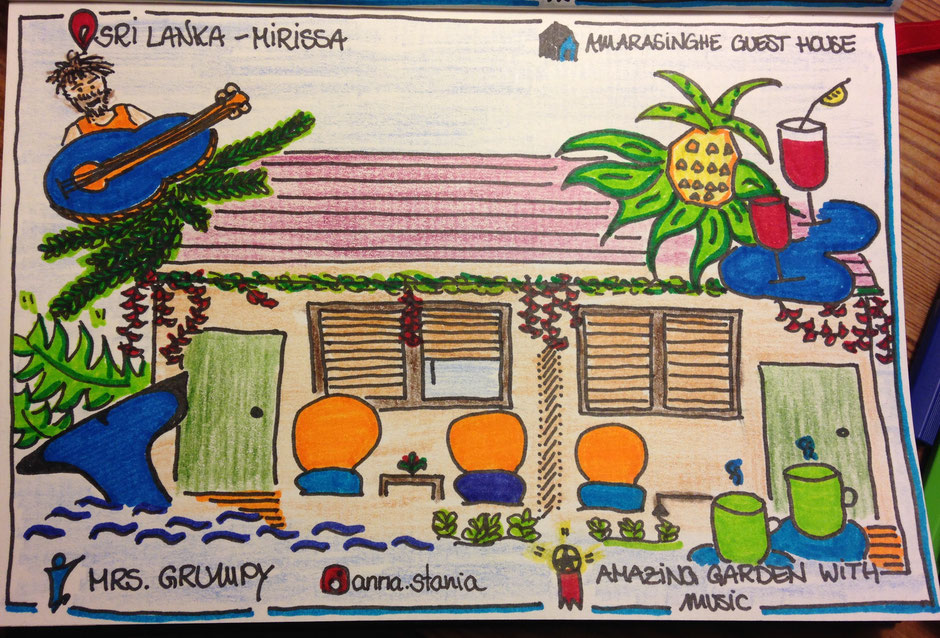 If you want to be a little bit off the road at crowdy Mirissa you can go to the Amarasinghe Guesthouse with the big green and animate backyard. In the morning you can watch birds and during the day some monkeys show up. At night you will see mysterious Sri Lankan animals. Try to get a room in the side building, which is more unhasty and cheaper.
The owner of the Amarasinghe Guesthouse is an older widow, who has to run the business by her own. But she also managed it that the vegetables come from the own growing. Try the tomato curry - the best Sri Lankan food we ate. After that you will order it maybe everyday.
Negombo - 8+Plus Motel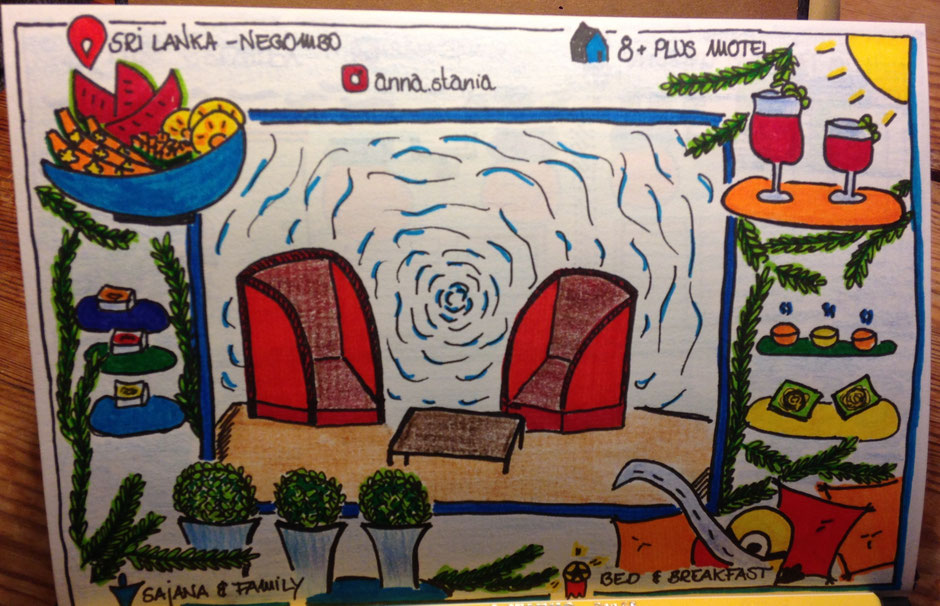 Sajana and his lovely family run this very new, modern and uplifted Motel with a lot of passion. The interior of it is so great and sophisticated that you feel like staying in a boutique hotel mostly. During our stay some rooms were still under construction but we already could image the nice style of every room. With it comes an even better breakfast every single morning. Sajana's mom serves the fruits in a very lovely way by cutting small flowers of it.
When you decide to stay with Sajana and his family you probably get the chance to sign on the wall at the reception hall. So everybody can see from which place the guests come to the 8+Plus Motel - like a huge guestbook painted on the wall. We adore the idea!
---