Traveling through Sri Lanka is a nice experience. Beautiful landscapes everywhere, super delicious food, very friendly people and beaches where you would like to stay forever. Sri Lanka is the relaxed drop next to india, enjoy it and feel good!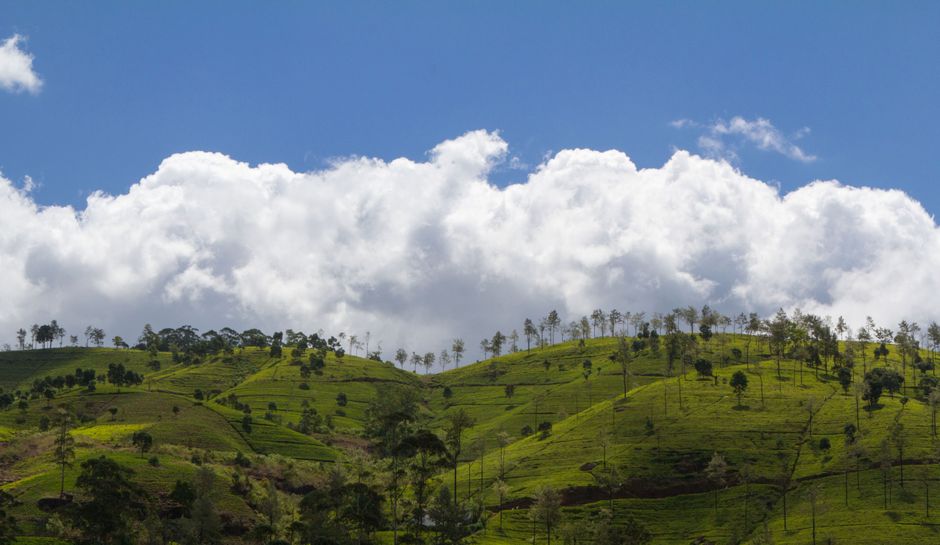 When we decided on traveling through Sri Lanka, we were looking for a far away destination but a little less adventurous than the last trips though still with beauty and intensity. Sri Lanka is a perfect match for that. We went at the beginning of the year, which meant the monsoon season was just passing over the Eastern part of the country and we were able to enjoy the countryside as well as the West and South coast. We started in Negombo and from there, we took a small adventurous bus ride to Kandy (crazy driver). Next, we went to Habutala and down to the South coast and after a beautiful train ride found ourselves back in Negombo.
Transportation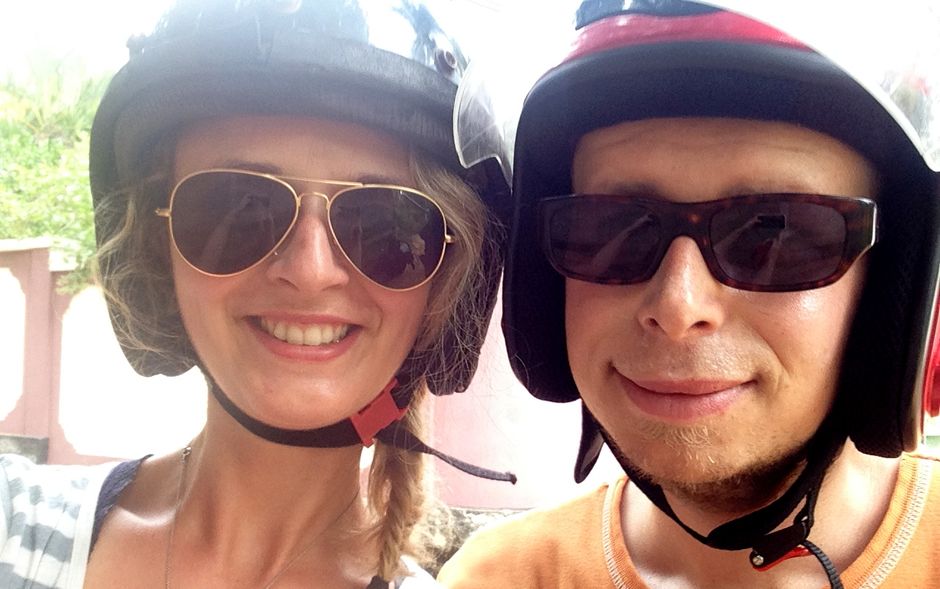 We tried almost anything possible: train, bus, private bus, private driver, 3-wheeler (rickshaw), scooter, boat and bicycles. We love to take local transportation. It brings you closer to the people and you experience a lot. You have nice conversations (sometimes only with hand gestures, smiles and signs) and you dive deeper into the culture. The German professor Dollase once said, when you use public transportation, you learn everything about society. Certainly more than you can ever learn from any books. So we loved trying out all the different means of transportation. To meet local people, we took the train. To have a relaxed and enjoyable ride with stops wherever we wanted, we took a private driver. To experience our surroundings without feeling limited, we chose the scooter. It just feels so good to drive around and find hidden spots. But be carefull, streets are often not good. Concentration is key to not get into any trouble! Of course the best vehicle is the bike. You do your share for the environment, it is super cheap and you combine exploration with a nice workout. This is our perfect mix, even if it is sometimes a little hard. Our tip is to start early and take a nice long break during noon.
Landscapes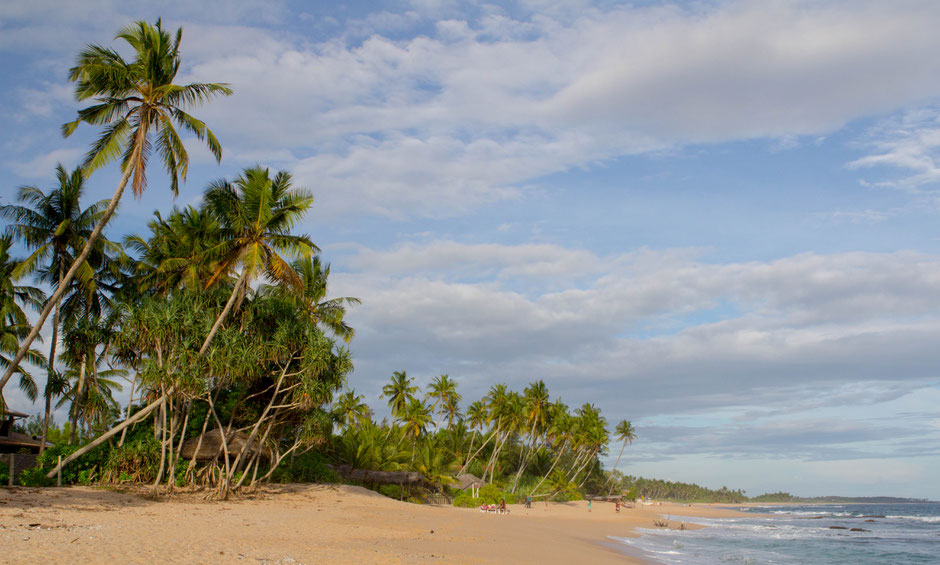 In Sri Lanka, you find beautiful scenery everywhere. So much Green, such gigantic old and majestic trees and plants. It is sublime and calms you down while filling you with joy and admiration. We loved the tea plantations the most, even if they are man-made in a way. Walking through the plantations felt like heaven. The variety of green colours, the fresh air, the mountain view evolved this feeling (We will do another blogpost only on that so watch out for it.) The beaches invite you to stay way longer than planned with its beautiful yellow sand that let you dream and its palm trees that show the longed for paradise. WE experience always the same thing: Palm trees bring us an exotic vibe that directly brings our mood to a better place. That's when you feel, you are in that perfect place. You get hungry? Just go to the next small beach restaurant and enjoy the excellent Sri Lankan cuisine which brings us to…
Delicious Food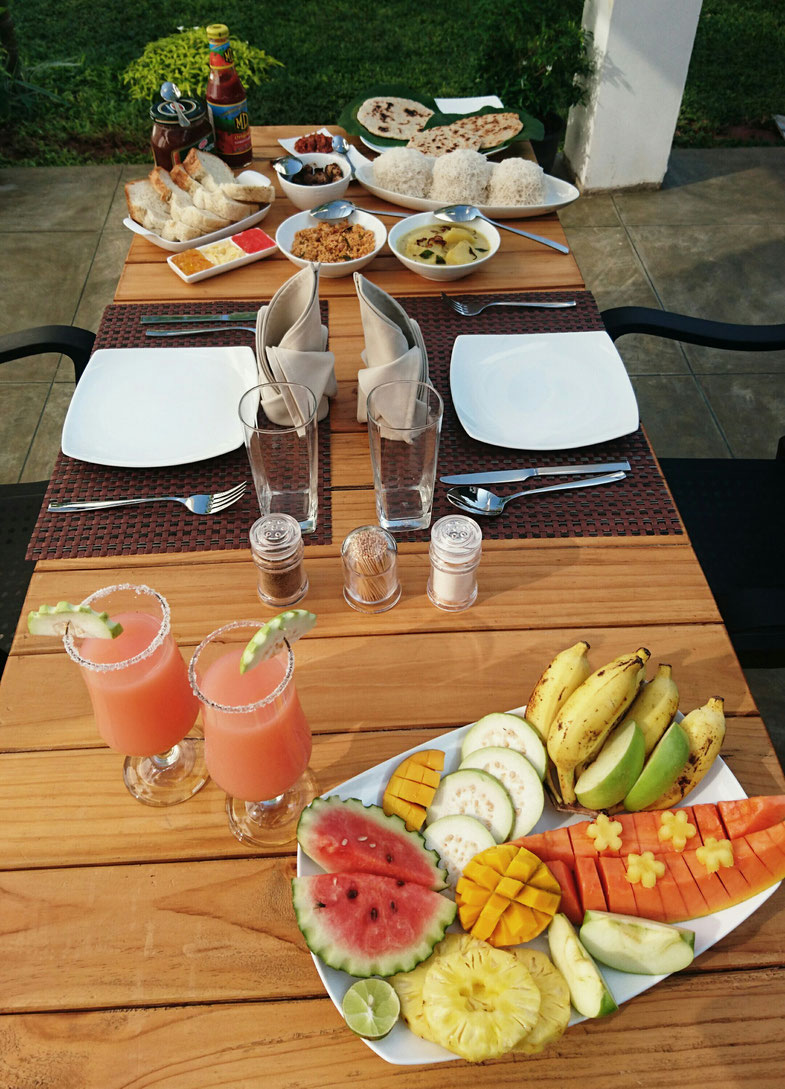 The Sri Lankan cuisine is delicious and to our surprise very different from the Indian cuisine. You will have many tasty explosions due to all the different spices they use. It feels like even a basic meal has so many spices that it becomes quite special. We loved the grilled eggplant curry the most. What a taste. But also the fresh fish at the beaches in all its combinations or the typical Sri Lankan breakfast with porridge and fruits provided us with strength and happiness. Our tip: Always ask the local people what they eat. This is often the best (and cheapest) meal. Trust us. After trying the Sri Lankan breakfast, there is no going back to a standard continental breakfast ever again.  
Our most important tips for traveling through Sri Lanka
Travel with different transportation vehicles.
Go to a tea plantation and stay there for a few days.
Try the local Sri Lankan breakfast.
Do morning yoga or some exercise sessions at the beach - nothing can compete with that.
Travel to less places but stay a little longer in each. Even a day more is going to connect you much more to the location.
Use a water purifier.
Go to the botanical garden in Kandy.
Drink as many fresh coconuts as you can. It makes you happy and healthy - The perfect combination!
Hard facts from our Sri Lanka trip
We spend three weeks in Sri Lanka (and could have stayed much longer).
We spend around 200.000 rupees (ca. 1300 euros) while being in Sri Lanka.
We traveled around 700 kilometers.
We traveled with five different vehicles. A new record :-) 
We saved around 80 plastic bottles. This is the first trip where we used a water purifier. (There will be a blogpost about the purifier in the future).
The why in a nutshell
It is really warm in Sri Lanka and you have beautiful landscapes. The people are friendly and try to help you in every situation. You can have mountains and beaches in only 2 hours distance. The local food is delicious and the fruit shakes let you want to never leave again.