'Welcome to Mongolia' is one of the first things we hear after arriving in Ulan Bator- capital of Mongolia. This is the beginning of many friendly faces and an interesting time. We will stay way longer than we planned and would have our most exciting road trip ever. Mongolia moved us, that's for sure. We will come back! Our workation in Ulan Bator was a success and we learned to understand the love-hate relationship towards the city a bit more.
About Ulan Bator
Ulan Bator is by far the biggest city in Mongolia. Located between mountains and beautiful surroundings. Due to the fact that it is the only big city people say just 'city' and everybody know's which one they mean. People from Ulan Bator call their city UB. There are around 1,5 Million Citizens in Ulan Bator, first named Örgöö in 1639.
---
Lifestyle and life
Ulan Bator is a busy city. During the day you will have intense traffic almost the whole time and it will go like this until night. And even in the night the city is not sleeping. Ulan Bator itself is not beautiful. There are some buildings from the Soviet time which a nicely set and with architectural glow. Besides that the city had to grow faster than it was possible under normal circumstances. Due to that you see many not so pretty buildings and some chaotic grown city structures. Nevertheless – the vibe of Ulan Bator is good and the people are quite stylish. We saw beautiful coats, nice dresses, awesome shoes and pretty impressive stylings. Not that we did not expect that – but here in Mongolia, where culture, landscapes and history is so rough this side was more developed than we thought. So shame on our preconception. We learned. And would be way more open minded from now on. In our second blog post about our road trip you will see, that the modernism and stylish factor ends when you leave the capital. But that is a different story. Interesting fact: When it rains, everything will be wet. There are no underground canals. 
What we did in Ulan Bator
We had two main topics on our agenda – work and relaxation. The idea was to have a well balanced mix of these two. In the end we worked a lot, had many interesting meetings and learned a lot about the Mongolian mindset. Interesting fact is that everything regarding power, good deals and success still happens almost only within the own clan, in the own family. These structures are really strong – they bring stability and stagnation at the same time. But back to what we did. So we worked a lot, wrote blog articles, worked with MOWOMIND on #modernworktour topics and wrote for example an article for a German Newspaper about the Balkan States. We also got interviewed and went on national TV. Fancy times.
When we didn't work we cooked, slept, met new friends an enjoyed our stay (in total 18 days) in Ulan Bator. We met at least three new friends.
Khulan, the wonderful founder of Mongolian first natural skin care startup L'hamour, an open minded innovator.
Hongorzul, the really young General Manager of the Best Western Hotel with a lot of passion for good leadership, music and art.
And Batu. We meet Batu on the first day when we could not find our Airbnb flat. He saw us, helped us and was our lucky catch in that situation, Funny thing is, that we ran into each other again by accident (or by purpose ;) ). We exchanged numbers and had a wonderful evening together. What a nice and clever guy! We were so happy about our evenings with these wonderful people. Normally we don't have too much contact to locals (besides work) which is also due to language barriers. Here it was quite refreshing and honey for the heart. All three spend some time abroad and have therefore a good view on what is going on the Country.
After our road trip we had the chance to work for a five star hotel in Ulan Bator. We did not say 'no' and came to the agreement that we would exchange work for accommodation. So we stayed for one week in a five star hotel in Ulan Bator – which was really nice. We had the chance to enjoy incredible breakfasts, our own suite, delicious room serviced food and a huge and nice hot top. Best of all was the view! We didn't want to leave – the feeling of living life to the fullest was just too nice. But everything has its end. So we started to plan and pack for our next big adventure – China!  
Interesting observations about Ulan Bator and its people
Citizens have a love-hate relationship to Ulan Bator but stay anyway. So many people we talked to mentioned all the same. The don't like the city but they cannot leave. All our new friends we mentioned have been abroad, liked it a lot but came back anyway. It is the special vibe of Mongolia we guessed. And citizens only need one hour and they are in incredible landscapes.
The air quality is one of the worst in the word at least in winter times. Ulan Bator has a huge pollution problem. They are trying to fight it but it didn't get much better so far. No wonder, there are KRAFTWERKE in the city, traffic the whole day and there are many yurts (here they call them gears) with their own oven. During summer it is not a problem. Entering winter season it gets worse and worse.
Ulan Bator has many huge shopping malls. On almost every corner you can find one. We don't know how all these shopping malls can survive but it seems that they do. You can buy everything – also all the stylish clothes we saw.
Many many Coffee places are located all over the city. We didn't expect a huge coffee culture. But everywhere you see new and nice looking little places with delicious coffee. Probably the most famous chain is Bob's coffee.
Hot pots is something Mongolian love. Mostly Korean restaurants serve hot pots. You get literally a hot pot with many delicious ingredients. It is like a soup – but different. More tasty, more asian style, more hot pot.
Beautiful people. We love watching people. Always have – always will. We saw so many beautiful people that we could not believe it. Especially the women with their strong dark hair, their pale faces and big city attitude. We loved it!
Mongolian people love Germans. That was new to us but we liked that fact of course. Even though we could often not have real conversations due to lack of language skills we got many compliments for being Germans. We were sometimes a bit sheepish but enjoyed this at the same time. We thing this strong connection to Germany comes from the past.
Surrounding of Ulan Bator
As soon as you leave this big city, nature is yours. And it directly starts with incredible nature. One thing we can highly recommend – driving to the south east of Ulan Bator and in the direction of 'turtle rock' (there is also a public bus going there). The rock itself is famous. But also the surrounding is breathtaking, We did a day trip in this region and out of the city and enjoyed a really nice Sunday. But no matter which direction you choose – nature is waiting for you with intense beauty!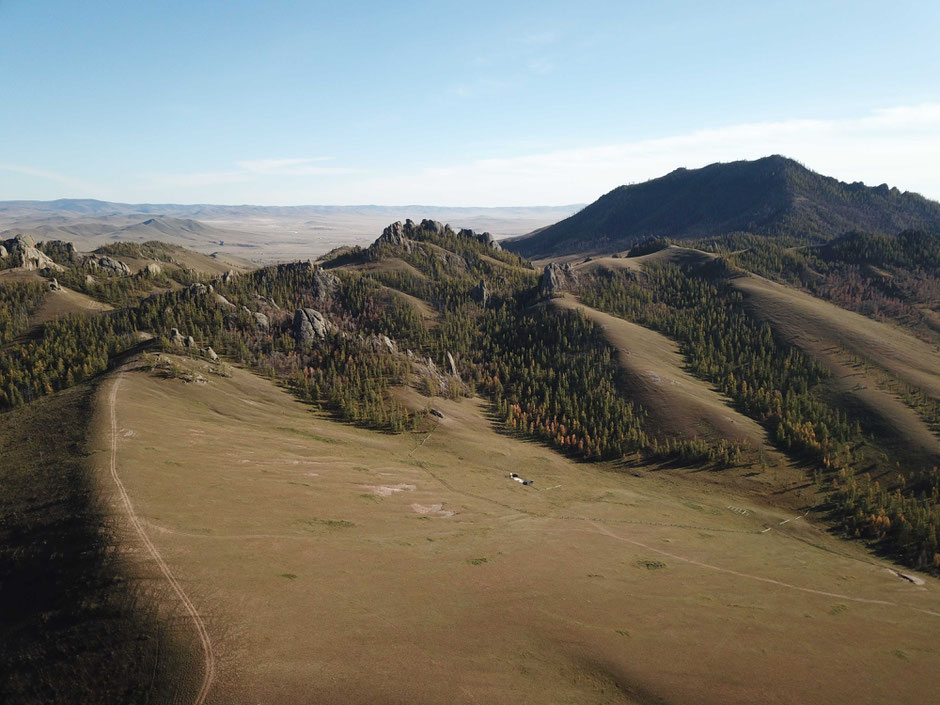 ---
Places we can recommend
Fat Cat Jazz Club – This club is owned by a really young and talented jazz musician. The place can be quite crowded and it can be hard to find a place to sit. On a Sunday evening we were lucky, got the perfect table, an awesome drink and a superb jam session. Fun fact: The one waitress is also a jazz singer with a voice like heaven!
Ruby Room Restaurant – This place has a nice American-Mongolian ambience (yes, that works) and serves delicious burgers (also vegetarian ones!) We came here after a way to long drive, a way to short night and super hungry so maybe we are not that objective.
Route 22 – This place is great. Stylish interior, really good (and a bit expensive) food and for sure delicious wines from around the world. If you want something fancy but still affordable is this your place to go!
Double Shot Cafe and Restaurant -  This one is convenient and the food is good. We had some business meetings here and they worked out quite well. Coffee is good!
Ayanchin Lodge Restaurant – This Korean restaurant is a bit pricey but serves a large variety of really good dishes and side dishes. Just order a lot of them and enjoy your feast.
Rooftop Restaurant and Bar at Best Western Hotel – This fancy place serves great Cocktails (we recommend the strawberry mojito) and really good food (for example the pasta). The cuisine offers western food. With a little luck you will enjoy life music and the view is one of the best in Ulan Bator!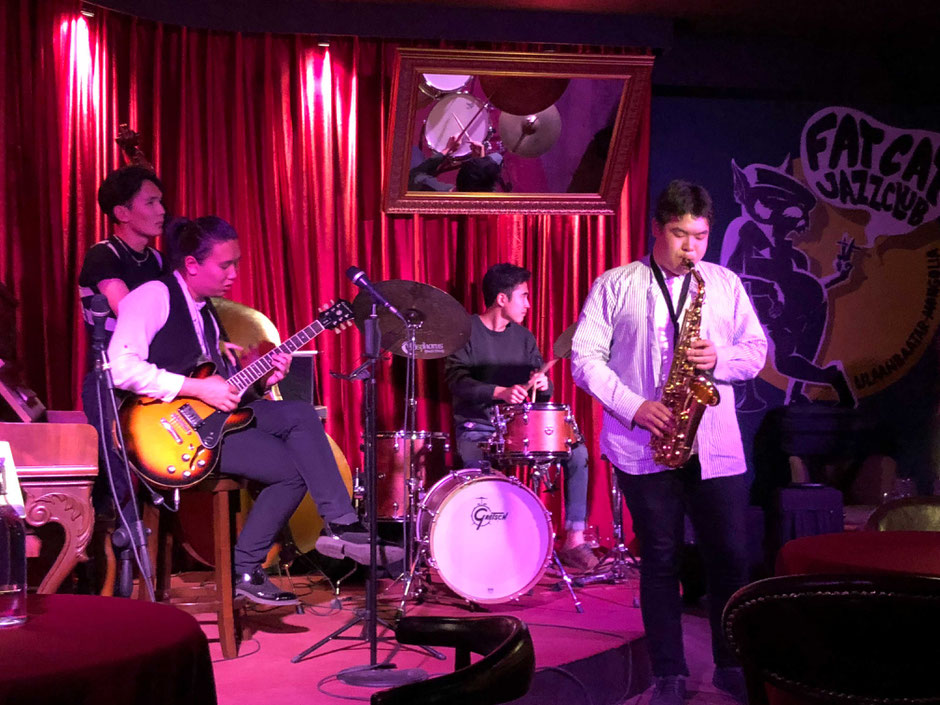 ---
Conclusion of our stay in Ulan Bator
We really liked the city. We are not so sure why. In our experience it depends on so many factors like weather, accommodation, people, food, wine, happenings, lucky accidents, price level and more. We felt a bit like home during these days. We enjoyed our own flat with cooking sessions, inviting new friends and working hard. We enjoyed as well staying in the five star hotel for a week and embracing the lifestyle we haven't had on our road trip the weeks before. We would recommend to come to Ulan Bator in Spring, summer or autumn (!). Not in winter, due to pollution. Ulan Bator is the central place in Mongolia from which you can plan and do almost anything. Getting the right equipment, tips and plans is crucial for a good journey to the countryside. About our amazing journey can you read in our next blog post. So stay tuned!
---
---
Additional impressions
---