Sarajevo is the capital of Bosnia and Herzegovina and a city full of surprises, intense history and very welcoming people. We ate a lot, drank strong coffee and had heart-warming meetings with the locals. In this blog-post we will share out insides about our 10 days Sarajevo staycation with you.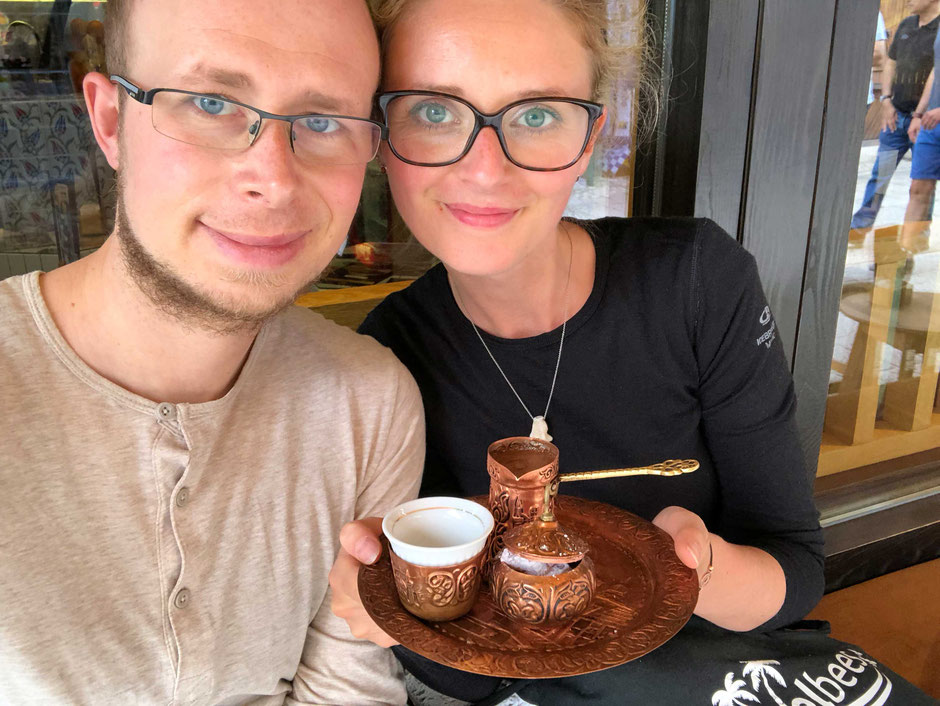 ---
How to come to Sarajevo
There are mainly two options how to come to Sarajevo. By plane or by bus. Flying is more expensive than you think and surprised us in a way. Due to our slow-travel approach we went by bus anyway and we got there only from Split - but it was still eight hours in the bus. Like the other bus trips before, this tour amazed us because of the beautiful landscapes as well as the incredible rock formations. What we directly recognised on the way to Sarajevo – There are plenty of ruins and abandoned buildings on the way. They are everywhere. All the time. And still don't know why it is so. Often you see a brand new house directly on the side of an old ruin. This impression would continue in Sarajevo itself but how we learnt it is because of other reasons.
So we arrived very tired and groggy at the central station in Sarajevo. As always the arrival is a stressful time for us because we have to orient ourselves in the city and get to the accommodation. And as always as well, the taxi drivers stalk you all the time. We had the luck to run away from a "crazy taxi driver" who waits for potential clients in his own car. But someway or the other we paid too much for the drive because we agreed for a price before we got to our destination. Lesson learnt was that in Sarajevo you should always drive with the taximeter - if you do that taxis in BiH are cheap and comfortable.
For the first nights we stayed in a really nice and cozy rooftop flat in the Hiseta district. It is very close to the new Sarajevo Shopping Center (SSC) and it's placed in Marijin Dvor which joins Zmaja od Bosne in the west and Obala Kulina Bana in the east. "Hise" meant "unit" or "part" in Arabic. The name probably referred to the lower parts of the town, the outskirts, because during the Ottoman period this represented the limits of Sarajevo. Anyway. In our flat we had the chance to cook ourselves and do yoga at the rooftop which was pretty amazing.
---
How to stay in Sarajevo
On our way to Sarajevo we made friends with two great Dutch girls who we invited the second night for a rooftop dinner and one or maybe more glasses of Herzegovina wine. These two nice and young ladies already got a free guide tour through Sarajevo and explained from our rooftop the different stories about some buildings or streets we could see from above. So we learnt that the abandoned building right in front of us and in the very center of Sarajevo is abandoned because it's under proceedings about ownership. Or we learnt that there is a sniper alley where the first shots came from in the Kosovo War. We would recommend a free guide tour through Sarajevo with the focus of the civil war there which was happening just in 1992 - so not a long time ago.
After we heart this stories under the stars of Sarajevo on our rooftop our interest was born and the expectations were high. The very next day we walked around the city by ourselves.
---
The old town - Bascarsija
Sarajevo is probably most known and famous for its old town with the main market - Bascarsija. It was built in 15th century and it has many little shops, cafes and restaurants. To recommend a specific restaurant or cafe is not necessary because you will find a good place by your own - just follow your mood. What is good to know is that there are two different kinds of traditional eateries -  Cevabdzinica und Burekcina.
The first one mainly serves the traditional sausage Cevapcici. Cevapcici are made from grounded meat which is mixed minced meat of beef and mutton that is rolled and grilled. They are served with Somun (bread), fresh onions, yogurt and Kaymak (creamy spread).
In the second one you will find different kinds of Burek. Burek or also known as Boerek are a family of baked filled pastries made of a thin flaky dough known as phyllo. they come with cheese, spinach or meat.
You will see it in front of every eatery there and get an idea what you would get there. With the coffee it is actually the same. On every of this narrowed and busy streets of the Bascarsija you will find a good selection of Turkish and Bosnian coffee and of course tea. We are still a little bit in shock how many people smoke here.
Probably because of this Arabic, Jewish and Christian atmosphere Sarajevo is also called "Little Jerusalem" or "Jerusalem of Balkans". The difference seems to be that the people there are in more balance to live with each other and respect the different religions. What we liked a lot in Sarajevo was that you can see churches, mosques and synagogues standing side by side - it was quite interesting. We found this amazing artist in Bascarsija who amazed us by his beautiful and fanciful paintings, sculptures and cards. We sent some to our family and friends in Germany.
What we experienced in Sarajevo was that on one side there is an interesting start up scene where young people work hard to find any solutions for their own country or the world (if you would like to hear more from this you should visit our website about our ModernWorkTour and what we learned from our meetings with HUB 378 Co Working Space, AppImpact and Symphony.
So the modern vibe of the city comes from them and you will recognise it when you will walk from the old town along Miljacka River to the SSC. The city will change tremendously. Even with this kind of vibe there are many indications of the brutal and senseless Bosnian War from 1992-1995.
We have been told that the people here don't like to speak of the terror and would like to focus on the future right now. In our opinion it would be more sustainable to rehabilitate from it with more awareness. So we were very surprised about our second host. We had to move in Sarajevo after four nights from "Hiseta" to "Grbvica" and the welcome was very warm. He picked us up and told us this kind of romantic and very sad story about "Juliette and Romeo and Sarajevo". After telling us this story he explained how grateful he is to host young Germans in his house. For him Germany is the country which helped the Bosnian people the most. By carrying refugees during the civil war and send some humanitarian help. And then he did something unexpected - he thanked us for it. We were quite unsure how to deal with it but we were touched by this humble move.
With this kind of awareness we walked into the city hall the next day to visit the exhibition about the Bosnian War on one side and the reconstruction of the city hall in the other side. The town hall was completely destroyed in 1992 and rebuilt in 2014 [LINK]. You have to pay a small fee to enter the exhibition but in our opinion it's worth it.
The building itself is very pretty and you will find a lot of ascendancies of the Ottoman period. At the first glimpse you will think you are in Morocco. The first floor exhibits just big formatted pictures about the Bosnian War. Just a small text in the corner of the pictures informs you about the context of the picture. This kind of simplicity blew us away and we were very touched. Especially by the fact that we just recognise the similarity of how the people looked to our parents in the 90ies. For example: Do you still remember the neon colored sport suits? You will find it on the pictures of the exhibition and in your parent's photo album as well.
In the evening we have been told by a French friend of us (who we met in Sarajevo during a summer rain) that the posttraumatic stress disorder of the employees of the Red Cross who support BiH during and after the Bosnian War were much higher than usual. They identified more with the Bosnian people because they could have been themselves, in comparison of helping somewhere in Africa, where the whole context is already quite different. We immediately get it.
For a small day trip we will recommend to take the new cable cars in Sarajevo. It costs 20 Euro per person which is pretty much. But you will get a nice outlook from above the city. It seems that you can walk down a pretty nice path but we had no time to do that so we took the cable cars down as well. At least that is worth the entrance fee then ;-)
If you are not in the mood to discover Sarajevo by foot we recommend to take the tram which circles around the city. You can buy a day ticket and drop out wherever you want. My favorite tram was red painted with white dots. Even if the people will tell you that you don't have to buy a ticket you should. We have been inspected two times in the tram.
Our favorite restaurants in Sarajevo are Paper Moon, Cafe Cappuccino and Avlija more outside of the center and ASDŽ and the Baklava Shop in Bascarsija. Traditional specialties of food in Sarajevo are:
Bosanki Lonac (cooked dish with 2-3 kind of meat, along with potatoes, onions, carrots, pepper, salt and bay leaves);
Pita (Bosian pita is made from thinly stretched dough that is filled with meat or vegetables like potatoes, zucchini, spinach, cheese and mushrooms);
Somun (flat bread is popular complement to cevapcici);
Baklava (pastry is made with layers of fine phyllo dough that is filled with a special mix of flour, butter and eggs, as well as walnuts and then covered in agda, a rich and sugary syrup), hurmasica, roses, tufahije or kandaif; Kahve/Coffee (special served);
Sarajevski Sahan (dish is made up of different kinds of dolma, vegetable stuffed with meat or rice, and is usually served with sour cream)
---
Conclusion
---
Sarajevo is a very interesting city which isn't very well known in Western Europe. But we also heard that Sarajevo is very popular in the Arabic aera because of the location of the city. In summer it's hot and in winter you can go skiing in the mountains surrounding the capital of Bosnia and Herzegovina. You will find a lot of marks of the tough history of this beautiful country which is still in progress to find out it's balance between the past and future. BiH has impressive potential for a pretty manifold travel destination and business opportunities as well.