We really liked our time in this rough but beautiful country. Landscapes that blow your mind, friendly people and an interesting capital Bishkek. Kyrgyzstan has the second biggest mountain lake in the world and a lot to offer for tourists and travelers. We had a wonderful time on our intense road trip. 
---
After a more or less disastrous road trip in Kazakhstan with driver and guide we knew for sure that we would love to go on an adventure ourselves. We were really happy to find a good cooperation partner (LINK) and two very friendly people we could arrange a great deal with.
Short facts about the Road Trip
7 days
1390 kilometers
519 Euros in total
74 Euro Daily costs
7 different Accommodations
An awesome Lada Niva 4x4
Dust everywhere
You will see pictures of the map for the exact tour we did at the end of our post!
Preparation for the road trip and the Deal
Even though Kyrgyzstan is a relatively small country, it is not small. Or in other words – the roads are often so bad, that you also need many hours for a short distance. So you have to plan a bit. We researched online about the most beautiful places and came up with a few. We spoke to other travelers and locals and good a fairly good idea. As travel bloggers and instagrammer we discussed a deal which would work for both sides. That's also why our road trip was not too expensive in the end.
Food: We bought some basics already in a supermarket in Bishkek. Like noodles, rice and drinks and co. On the way you will always find mini markets from time to time and they also sell some veggies even though the variety is quite limited.
The Route on our road trip through Kyrgyzstan
In our case we did many breaks and took sometimes small roads in order to get to a special place for our beloved coffee break. That is why we always took longer than you would while just driving from a to b. In the listing you always find the direct routes with the distance. The listed time is how long it took us.
Bishkek to Chong-Kemin National Park Delta – 144km / 6 hours
Chong-Kemin National Park Delta to Tamga – 214 km / 8 hours
Tamga to Yurt Camp close to Bokonbayevo – 51 km / 4 hours
Yurt Camp to Kochkor – 123km / 6 hours
Kochkor to Chaek – 117 km / 6 hours
Chaek to Tschui region (M41) – 141 km / 7 hours
Tschui Region to Bishkek – 184km / 5 hours
---
Tips and tricks for a road trip through Kyrgyzstan
The Road conditions and traffic
When you take the main roads that go to Issik Kul, to Sonköl or Karakol the roads will be ok. You have to be a quite focused anyway because many drivers have a – well – interesting driving style. When you are willing for an adventure and take some roads which are not connecting hotspots with each other you will experience some of the worst roads ever. You will need a 4x4 car for sure. The bad roads are really bumpy, super dusty and will shake the car, all your belongings and yourself to a point, where you need a break and rest a bit. Still it is worth it. The landscapes we saw were beyond beautiful and not crowded at all. That is pure luxury.
Traffic
Traffic is something you will only experience close and of course in the Bishkek and maybe in some other cities.
Lights on
You need to fasten your seatbelt and turn on the light! If not you have to pay for it like we did. They wanted 1500 SOM but Nils managed to get away with only 500 SOM
Accommodation
We started to book in advance, because there are not so many places where you can sleep. But be aware – the google location is normally not the location where the house will be. We always (!) needed help by locals. This takes time and it is better to do it while the day still has some light. Finding places via booking.com and Airbnb worked out quite well. Even though they normally didn't know that we would come.
Translations
We think it makes sense to either have an offline translator with you or translate some phrases before you leave Bishkek. Something like the need of gas, the wish for accommodation and that you want vegetarian food (tricky).
---
Our Journey through this beautiful Country
We started in Bishkek and it was though to get out of the city. So much traffic and crazy drivers. But Nils managed quite well and made it. Than we got stopped by the police. We did know that they like to get money from tourists but on the first day? We did have no light on, so it was hard to argue with the police. At least we managed to get away with only 500 SOM. Then it got easier and we drone and drove. We found an amazing spot for our first photo session for our cooperation. After that we drove to the valley which has a dead end. For the first time we experienced how difficult it is to find the booked accommodation. But with a lot of help we managed. On the way we saw the oldest and weird looking gas station. Crazy that this old german  equipment still works. In this valley you can also do great hikes, it is known for that. But for that you need more time and we wanted to go on.
---
Issik Kul Lake - Where everybody goes
This lake is the tenth largest lake by volume in the world and the second biggest mountain lake. When it appears it looks like an ocean – with huge mountain surrounding. The view really is impressive and the water is crystal clear. Not everywhere, but most of the time. The north side is more touristic, so we decided to go to the south of the Issik Kul. By the way – even though the temperatures in the region drop a lot in winter the lake is never covered in ice. That's why it is called 'warm lake'. We went for a swim – it is freezing cold :)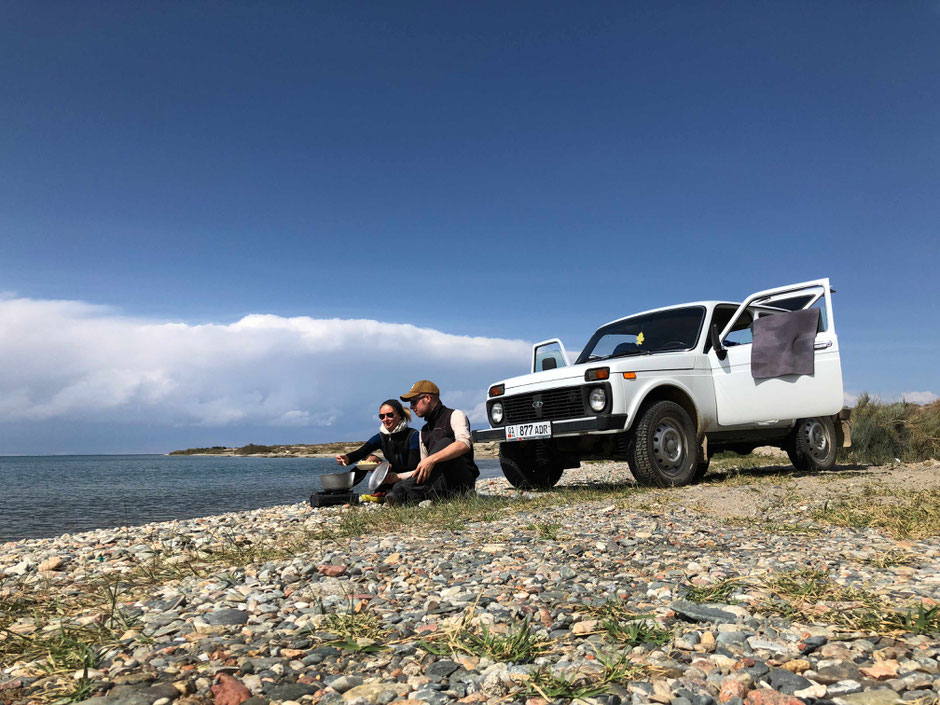 Next to the Fairytale Canyon - but just for us!
Hidden gem – the mountains south of the Issik Kul
From the Issik Kul  we had the idea to drive through the high mountains to the southern part of Kyrgyzstan. Somewhere in nowhere on really bad roads and beautiful landscapes we were completely lost. Our GPS did not work and we did not know which road to take. Normally not a problem but sadly our Gas tank was not as full as it seemed in the morning and we weren't sure if we could make it. That was to big of a risk so we decided to drive west, have a nice trip somewhere in the mountains anyway and will arrive at some point in Bokonbayevo. It was the best decision we could have made. Without tent and not enough gas – we were able to enjoy the beautiful mountains. Anyway while knowing we could make it till the night back to a city. But it got way better than we thought in the first place. On the way some locals were quite astonished to see us. We guessed, that no tourists drive here normally. We also only saw 2 other cars the whole day – but many cows, wild horses, goats. 30 kilometers before Bokonbayevo we saw this one place that looked like a good location for a coffee and some nice pictures. Quite high and hard to get there. But the simple road seemed good enough for the car. We went there and found an amazing place with a little yurt camp. We walked around and took pictures. We got in contact with the people there and without many words we found out that these are the last two days before it gets to cold and they close the camp. So spontaneously we decided to stay. In this yurt camp that could not be better. Really authentic, really small, no other tourists. Perfect! Super hospitable people. We are still humbled – without wanting any money for it they invited us three times during our stay for delicious and home made food. We good as much tea in a real samovar. We slept really good even if it was already super cold. It was the best night on our whole trip. The jam we got from them lasted till Mongolia. From there we headed back into the real world already missing the place.
Kochkor and it's surrounding
We drove to the lake Ortotokoi which has interesting and beautiful colored mountains around it. From there the road got really bad and the wind really strong. It got dusty. The landscape was not to impressive for a while, mostly wide valleys and a lot of farming. Kochkor is a little city from which many expeditions start. Here we saw some other travelers and had nice discussions about traveling, life and our planet earth. Sleeping in a living room (at least it felt like that) was not the best thing after this day, but hey – better than nothing!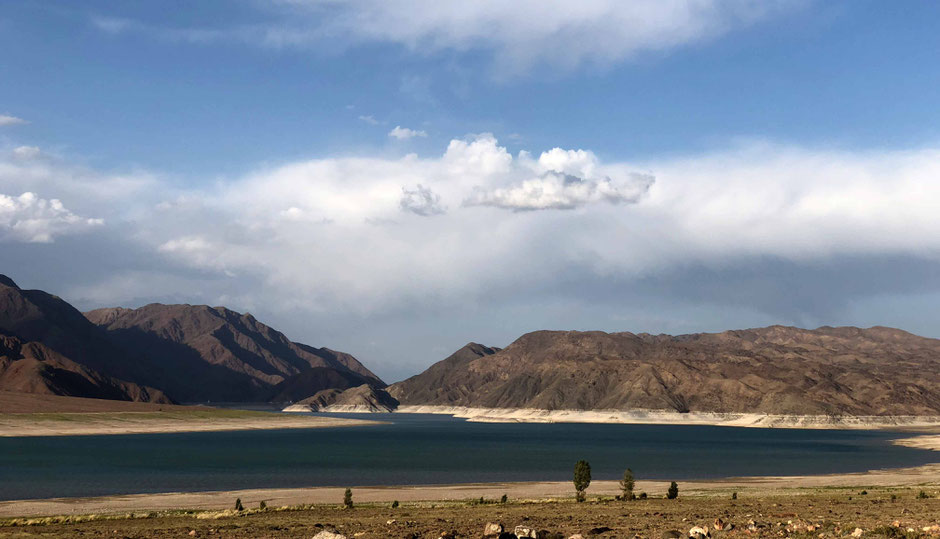 From Kochkor to Chaek
On this day trip the roads stayed in bad conditions. The wind was strong from the beginning and we only started our drone once. Some places would have been wonderful for Aerials but no chance. We could a bit frustrated. The mixture of strong wind, dust everywhere and not enough sleep was not a good combination. The Guest House was completely empty  - a bit scary. But we slept okay. Only the mood was still not the best. A bit exhausted from the bad roads and without a clue i fit would get better soon.
Chaek to the famous Baitur Camp
The road stayed difficult and often even dangerous. The landscapes got better and better. Such beautiful places – some of the best we have seen in our life. Colors, structures and shapes of the mountains combined with clear rivers and green stripes – amazing! We Had the chance to find the perfect spot for a well deserved break. This place was like heaven and with a tent we would have slept here for sure! The road stayed tricky and we continued. We heard that it is possible to sleep in a small village around 30 kilometers away from our perfect spot. The small village is called Kyzyl. For us it felt a bit early to find a place. We would regret this afterwards. Because nothing else would arise on the horizon afterwards. We drove and drove and it got later and later. Luckily  we found gas in a tiny shop. Way to expensive but still super good to get. It got more and more windy and difficult to drive. We were really tired already. At some point we decided to pay a bit more and drive to the Baitur Yurt Camp. We have seen pictures and it looked nice and expensive. Arriving there after a long day we got even more disappointed. Either rooms were way to expensive or stinky. We decided to take a middle range room, negotiated for while and finally agreed on a good price. 31 euros. The food here in this fancy place was the worst and most expensive food on our whole road trip. We can not recommend this place at all. It is NOT worth the money! Only the surrounding is really nice and we had a wonderful sunset – at least something nice.
Car issues and back to Bishkek
From here we started without breakfast and had to cross the big mountains. It got colder and colder and the surrounding was beautiful. The streets were good again. The car had some issues and we decided to go back to Bishkek a day earlier before we could harm the car. Driving back and coming into the traffic of the capital city again let us miss the countryside already. But we made it back with the car and were able to give it back in one piece. A week later they wrote us what the issue was and that they were able to repair it. Good and friendly people. We highly recommend renting a car here. On the way we were already dreaming about the Focaccia and a glass of good western whine. In the evening we got both – twice :)
---
Conclusion of our road trip through Kyrgyzstan
After Kazakhstan our trip to Kyrgyzstan was really a highlight. The people were really friendly, the food really good and our individualized trip in total really nice! The landscapes are stunning and we will come back! Our learning is, that with these bad roads you should make more time and have shorter days on the road. We wanted a bit too much and underestimated the quality of the roads. When you take the big roads between the hotspots you can drive way faster. We learned that next time we need at least one day where we stay somewhere. A day without sitting in the car. That is something we wanted but didn't do. Next time we will! Bishkek is an interesting city. Not to crowded and with good food options. In the countryside people will speak almost no english but will talk to you anyway and offer you food. We can highly recommend this country and will come back.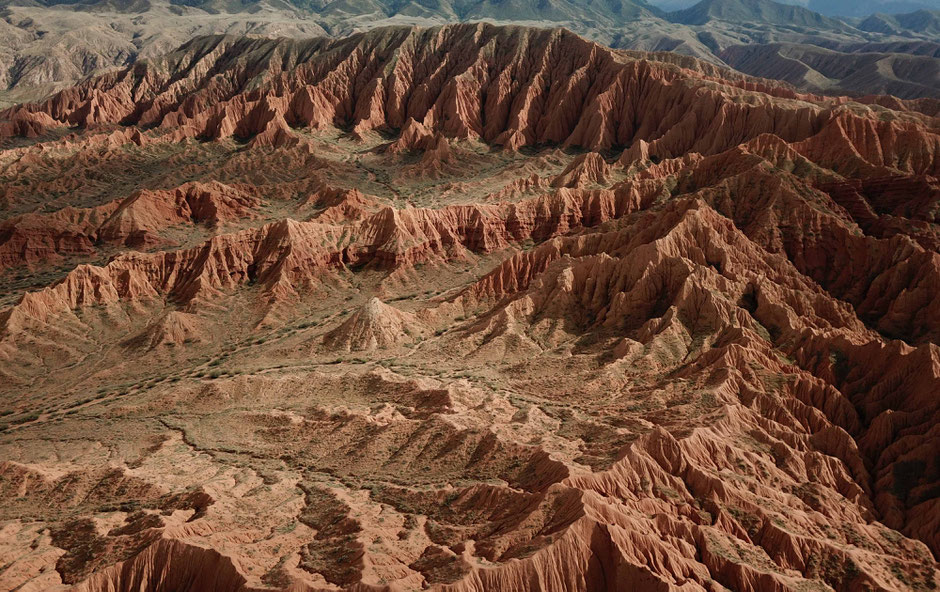 ---
The route on the map
Here you find the overview of how we traveled the country on single maps. As written in the post, it is not always easy to drive to roads. 
---
Additional insights
---
Interested in more? These related blog posts could be quite interesting for you as well! Just click on the links below...