Have you been in a foreign country during Christmas and New Year? We think a lot of people do that but we actually never have done it before. To have a "hot" sunny Christmas and New Year was a wish we always had. In this blog post you will find out how we celebrated Christmas in an "only adults" resort, what Anna's best ever Christmas gift from Nils was and how she ruined New Year.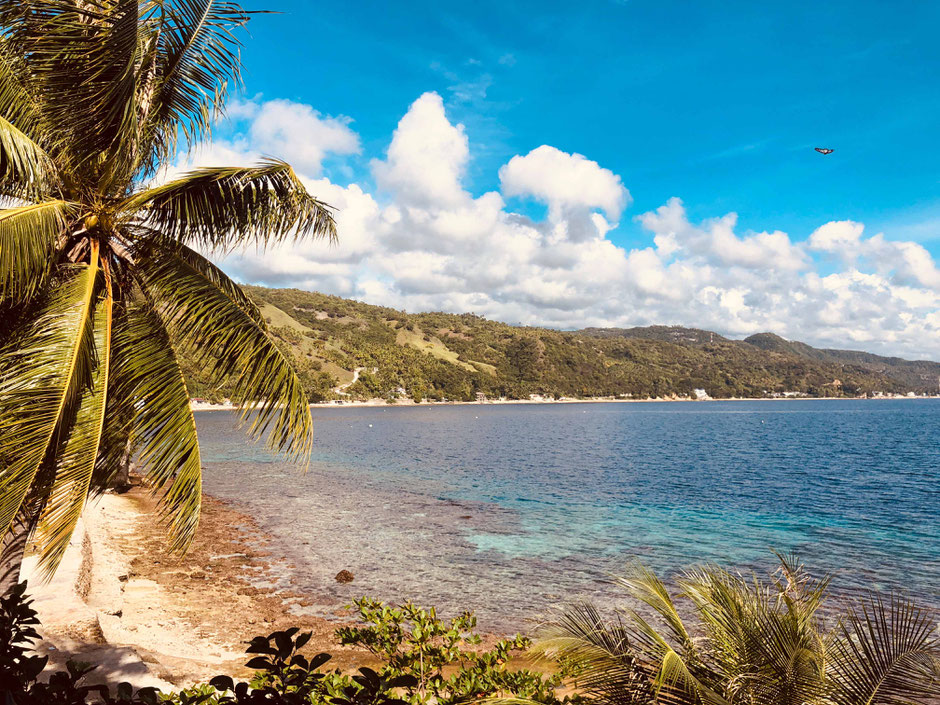 ---
First things first: Happy New Year 2019 to all of you! We wish you all the best for the upcoming year and hope you will stay healthy and happy. We are thankful for each and every one of you who "flight" with us the last seven months, who supported us on our way and who kept in touch with us through the distance. We miss you definitely and we are already looking forward to see you again back at home.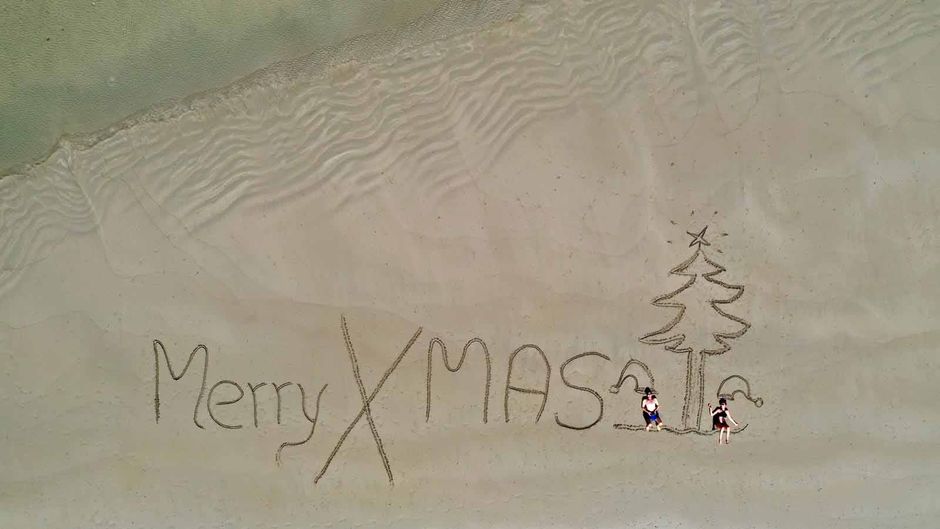 This year everything is different for us as well. We have never been apart from our families during Christmas. Even as a couple that is together for 9 years already, we never spend Christmas together. We always decided to celebrate with our own part of the family: So Anna usually travelled home to Melle and Nils to Hamburg for Christmas. This year we travelled but not home for Christmas – this year we travelled to the Philippines for Christmas.
---
Cebu Island
For Christmas and New Year we decided to celebrate on Cebu Island. From what we heard it's a beach paradise for diving and snorkeling. And we agree on the diving and snorkeling part but in comparison to Palawan Island we totally disagree on the beach paradise thing. We haven't seen a beach on Cebu which that white sand or clear water than at Palawan. Regarding on this we were a little bit disappointed by Cebu because we expected more. But like we mentioned it before – when it comes to expectations it's a fast way to disappointments.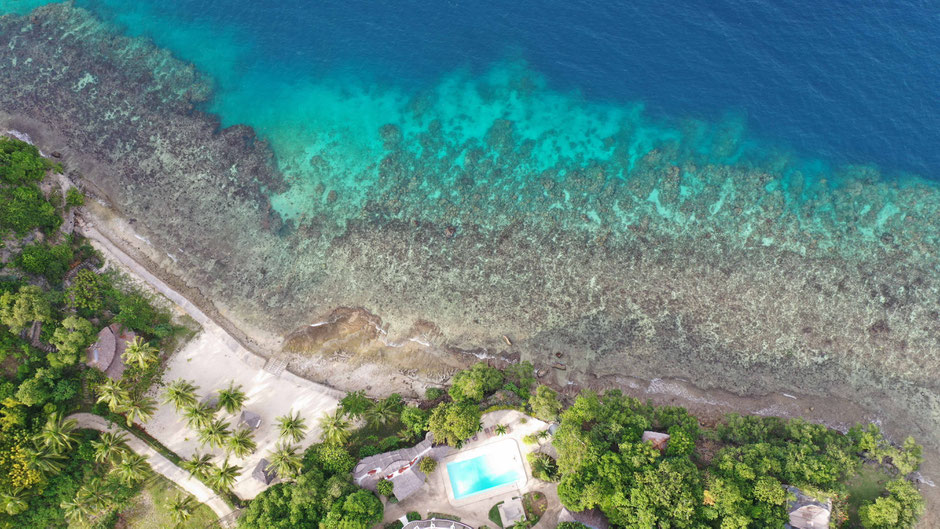 Nevertheless we looked forward to our accommodation during the Christmas holidays. We decided to stay at the Granada Beach Resort [LINK]. For us it was an interesting thing to do because it is a resort "only for adults". We never haven't visited a resort like this but we thought it could be a nice thing to celebrate first Christmas as a couple in it. And our conclusion is: it was really great because we had a lot of private and relaxed time just by our own.
---
Granada Beach Resort
The Granada Beach Resort itself is a really nice place to stay which is managed by the couple Chris and Viktoria: It has a great pool area, a private beach and a pretty public area for food and drinks. The property is very well located and it's super quiet because it's a little bit away from the main road and other houses. We haven't been distracted or woken up by dogs, cats or rooster noises (and if you ever have been to the Philippines you already know that's not very easy to get!). A really nice thing is that smoking is just allowed in one area of the resort which is really cool. President Rodrigo Durerte had proclaimed very strict rules when it comes to smoking in public on the Philippines. 
We got a room on the ground floor near the reception but it was still very quiet and private. The pretty rooms come with everything you need for a pleasant stay: hair dryer, water boiler, coffee, water, hot shower, shampoo and so on… You will get towels for the inside and outside area which is pretty convenient. The resort tries to take care of the environment which is a super nice thing. The towels will be changed by request or every three days, they had solar panels on the rooftop for the hot shower, they are using special toilet paper and had refillable items for hand soap, shampoo, shower soap and you will find some more small details here and there which follows a sustainable mindset.
For us the best thing here was: Every morning we practiced yoga on the rooftop of the Granada Beach Resort which was a pretty nice place for doing it. We had enough space and nobody was watching us – so it was really relaxing and private.
Christmas itself comes with a big Christmas dinner buffet at the 25th of December at Granada Beach Resort. We looked forward to the food but honestly it was a little bit disappointing because the selection was poorer than expected and side dishes were mostly cold when we got to it. The red wine was good and I got – for the first time on Christmas – a little bit drunk. Anyway - in our experience the Filipino food isn't the best we tried on our world trip and as a vegetarian you have some problems to find something. Mostly everything comes with meat and the vegetarian options are not very creative in a way. That was a big and unexpected surprise for us because we thought there will be more fruit based dishes or interesting vegetable variations. We are still wondering about it and haven't given up our hopes to be proofed wrong somewhere.
Another unexpected thing was the karaoke part at Cebu. Nearly everybody is singing on the island. During the holidays we saw a lot of carol singers walking from beach to beach and sing Christmas songs all over. They were walking in groups, sometimes in the same colorful shirts or goofy outfit and singing for everybody. It was a funny thing to observe because in Germany it's not very popular anymore and maybe it's a relict from the American colonialism. So for the whole holidays we heard many different Christmas songs everywhere, every time – and of course in every range of quality. Even when we are normally into Christmas songs in a way – after one week of hearing these over and over again we were tired of it. But on Christmas Eve the staff of Granada Beach Resort sung for us - that was fun and we learned at least one traditional Filipino Christmas song.
Also we decided that our Christmas gift this year will be the world trip itself and the nice and more luxury accommodation during the holidays. So we didn't prepare anything for Christmas. This was actually a great feeling: no need to clean up or decorate the house, no stress to shop some gifts, no preparation time for dinner etc. etc. So we really enjoyed that time just with each other and "only for adults". We basically just lied down on the pool or private beach, swum, snorkeled, slept or talked. But of course my lovely Nils kept a secret from me and prepared the best Christmas gift I ever got: a 25minutes video with greets and kind words from family and friends. In the night of the 25th of December Nils showed me the video and I got pretty much emotional with it (and it wasn't just the red wine speaking). It was so touching to hear all voices singing, greeting, making jokes or showing their Christmas tree – guys, that was AMAZING. Thank you so so much!
---
Dive Point Alcoy
After Christmas we moved on a little bit further from Granada beach to Alcoy, still on Cebu Island. We just took a tricycle for an 20' ride on the East coast. For New Year we decided to book a fancy place with sea view, a big balcony for our own and a big room with more space than usually. When we arrived there we have been welcomed in the really nice garden area with several pretty bungalows by a tall, white haired and handsome man who introduced himself as Joachim – the owner of the Dive Point Alcoy.
When we got to our room which is outside the garden area of the resort in the sea house we were disappointed by it. It wasn't that the room wasn't nice – it had a lot of space and a king-size bed, the bathroom was not very clean (but we could work on that by telling the staff to clean it properly), the balcony was big but there was nearly no sea view because most of the view was occupied by a big tree. When we checked the WIFI there was no signal at all and we have been told that there is a problem with it and we probably will have no connection during our stay in our room at all. We couldn't help each other – that was not what we expected and we couldn't get a homey feeling there. But the most unacceptable thing for us was that our neighbors were strong smokers and the smoke went everywhere - at our balcony and even in our room. We had to come up with a solution.
So we went to Joachim and told him about our dilemma. And then the best thing happened which turned the whole stay around for us: He just looked at us, thought for a short time and offered us in his typical calm and unexcited mood a bungalow. So we downgraded in bungalow no 12 in the nice garden area beside the pool and were pretty happy about it. The next solution Joachim came up with was the WIFI extender he handed us and from now on we had a solid connection to work. Even if it wasn't possible to chat or call our families we were very satisfied with this solution and we stayed two days longer at Dive Point Alcoy.
---
How Anna ruins New Year
How do you normally spent New Year? We are not the biggest party people and like to reflect on the day, have a really delicious and long dinner and make plans for the upcoming year. But this year I was in a bad and blue mood. We started with a cocktail on the pool and continued with a second one at our terrace in front of our bungalow.
But because of my bad and blue mood we couldn't find a mode to reflect 2018 or plan for 2019 and then I provoked a fight. So we ended the early evening to talk with our guest in the public area. In the evening there was a buffet but it was very disappointing and my mood got even worse. We started in the new year without any real cheer, prosecco or fun at the beach. But there was no celebration vibe at all and 15minutes later everybody went to bed. So, by my own I create the worst, boring and unexcited New Year on our world tour instead of having an excited one and coming up with something special ourselves. Not everything works out every time – even if you are on a dreamy place and under palms. Too much pressure, to high expectations combined with some travel exhaustion is not a good mixture for a joyful and happy celebration.
---
---