The first city of the Croatian coast that we visited on our world trip was Split. It's famous for the old town centre which was one of the film locations of "Game of Thrones", but it is also known for its modern atmosphere. Why you should go to the second largest town in Croatia you will find out in this blogpost.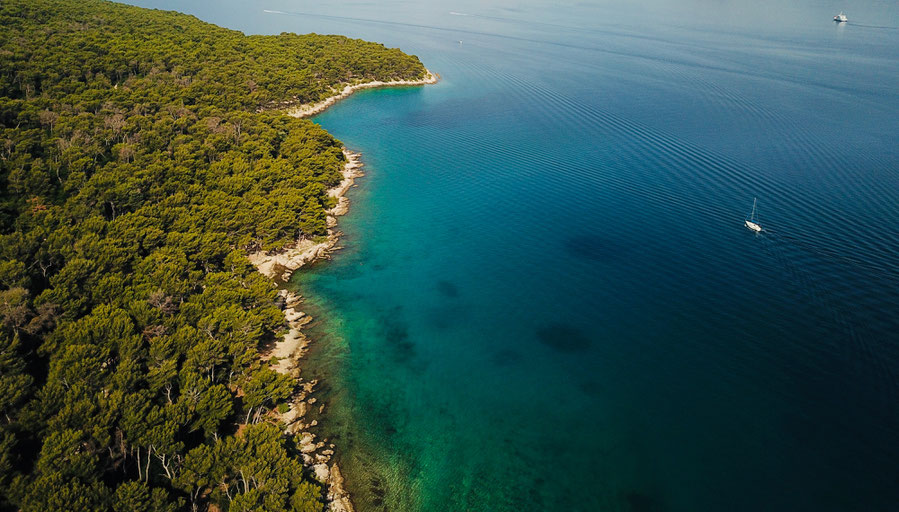 ---
The city of Split is a crazy mix of tourism, ancient buildings and beautiful surroundings. Although we stayed there only for a short time, we but got many impressions that we would like to share. Of course we had heard about Split before (we are admitted "GoT" fans)! And even if you haven't seen the series or you are not a fan of pseudo medieval fantasy you will be inspired by Split immediately.
---
Reason #1
First reason: the old centre with the palace of Diocletian: Besides that this building inspired  D. Benioff and D. B. Weiss for the city Meereen, this palace, which was built 1700 years ago by Roman Emperor Diocletian, and the historic center of Split are a UNESCO world cultural heritage. Let's face it: Split is a touristic town and you will find everything which comes with places like this - but if you like it, you will love it. We actually discovered the narrow alleys of Split on our search for a printer to print our bus tickets to Sarajevo (yes, very old school ;-)). Because it wasn't so easy we went to the tiniest alleys and around every corner we found new exciting things - so it was worth it at least. Give it a try and decide by yourself...
If you want to shop some groceries we will recommend the "Bio + Bio". It was a little bit feeling like being home and we got vegetables, bread and yoghurt for our travel lunch box for the next day. In the very front of the "Bio & Bio" you will also find the "Choco Cafe" with a selection of chocolate, coffee and ice cream. The owner is super friendly and will help you to choose the right drinks and sweets for you.
---
Reason #2
Second reason: the headland of Split: We got up very early in the morning to avoid the  touristic crowds. Our destination: the bike rental at Marjan Forest Park. After we arrived there at 8 am we found out that the bike rental was not opening before 10am. So we walked in the park. And it was totally worth it! We walked around for a while and then we sat down on the rocks and just watched the beautiful Adriatic Sea. The place is also liked by the local people in Split for sports activities like running and swimming. The atmosphere was quite nice and we enjoyed it pretty much.
Back in Split we went to two restaurants which were ok. Pricewise Split is nearly the same as in Germany and it's hard to find a not too crowded place. A little bit out of the main streets you can find the Deep Shade - it was on our way back home and the waiter was so friendly that we stopped for a bite to eat.
At the Banana Split we tried just espresso and wine. The place itself is nice and because it's placed on a busy street you can watch people and the daily life routines in Split.
---
Reason #3
Third reason: We also visited the first Co-Working Space in Split - WiP - during our ModernWorkTour. It was nice to see a totally different side of Split. WIP is located in a non touristic area of Split and there you can see a lot of panel flats. Maybe this is on of the down sides of the Croatian tourism. But the people seemed quite happy and satisfied to have the Adriatic Sea so close by and they love their hinterland of Split where they find time to relax. At WiP we also learnt that Split is totally different in the winter time. During summer Split is the important centre of Croatian tourism with a lot of tourism, events, boat tours, music and of course people from all over the world. In winter Split falls asleep and the streets are almost empty.
Our best recommendation for food in Split would be probably Kod Joze. This local restaurant isn't in the old town anymore but nearby so you can walk it easily. You can sit in- and outside of the restaurant and it seemed very popular by locals. It offers a selection of traditional food from local products. The service was pretty polite and helpful.
If the bars and restaurants are to busy for you during the late evening, we highly recommend to take a walk at the seaside. It i relaxing, the air is a bit colder now and you will feel an interesting vibe of traditional and modern impressions, sounds and smells. There are many places to sit down by yourself. It can be handy to have some snacks, a drink or other surprises with you - to enjoy a romantic evening at the seaside promenade.