The capital of Argentina is full of surprises and the best way to explore them is on a bike! Buenos Aires has plenty to offer and is a cultural mega hub of South America. Take a bike tour by the holacratic company 'Biking Buenos Aires'. The name keeps its promise. 
Is biking in Buenos Aires fun?
We had a wonderful time cycling through the city and enjoying the best tour guide Ray on our journey. You can choose between different options from small to big routes with different focus areas and interests, which is amazing. On our journey through already 60 countries since we are a couple we've been to many cities. Buenos Aires is special, that's for sure! And the reason is the cultural heritage, the beautiful landmarks and the smell of barbecue during the whole weekend. So yes, biking in Buenos Aires is fun, when you know where to go and which roads to take.
We also have a video about our workation and our stay in Buenos Aires, check it out!
Mate - finally!
Our first highlight started already in the beginning of the tour and helped us get the extra energy for the ride. In the Parque Lezama we finally drank our first real mate tea ever. And we learned how to prepare the perfect cup - it is an artwork for itself ;). The first sips we didn't like, too hot, too spicy, and too extreme. But then it started tasting really really great. And our energy was better after all. Mate to the world! You see it everywhere here in LATAM and it looks wonderful! We will buy some Mate cups ourselves and will probably start drinking Mate back home after our big journey of the global #modernworktour. 
The god of all - Diego Maradona
Of course we had to see the gigantic graffiti of Diego Maradona which was created the day he died. He still is THE superstar here and you can see many tattoos with his face on peoples arms and legs. For us a bit crazy, here it is completely normal.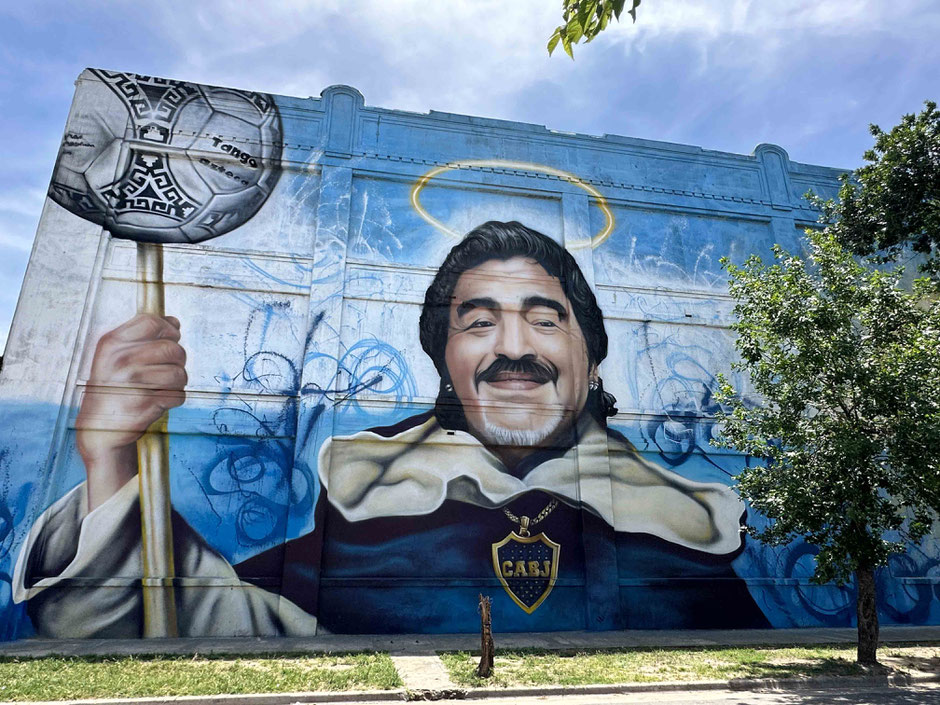 La Boca - Art meets music & tango
We have been to La Boca before, but boy - we didn't know anything so far. Ray told us interesting stories about the emergence of the urban district and the colorful facades. Did you know that poor men were painting the houses in order to pay and impress the woman? And that the tango was invented in La Boca? You see the tango everywhere here. 
Reserva Ecológica Costanera Sur in Buenos Aires
A Highlight was the 'Reserva Ecológica Costanera Sur'. You have the feeling that you are somewhere completely else and the temperature is dropping a bit, wonderful. The reservoir is open for everybody and is one of the local recreation areas in Buenos Aires. And if you are lucky you will see the small path through the green jungle and can get a spectacular view of the financial district. 
Parrilla Mi Sueño - THE Street Food place to go in Buenos Aires
Because we burned so many calories, we had to eat lunch and Ray brought us to the first and best place to eat the famous Bondiola Sandwich: Parrilla Mi Sueño. The owner had the clever idea to park the caravan there, so no fees or taxes would arise due to its moveability. Smart! Now many others have followed his example but this place is still the best. 
Puerto Madero - like our hometown Hamburg
Our last stop was in Puerto Madero, a posh place with restaurants, bars and cafes next to the water. We were reminded of our hometown Hamburg and got a bit sentimental. Puente de la Mujer - the woman's bridge is one the highlights here even though it costs a lot of money and people think quite sceptical about it. 
So many more biking insights
Of course this is just a glimpse and we don't want to give it all away - so that you will have some nice surprises as well, when you come and take an awesome bike tour through Buenos Aires in Argentina. 
A big thank you goes to the whole Biking Buenos Aires team and especially to our wonderful guide Ray, who is such a great storyteller. He brings the history of Buenos Aires through his vivid descriptions to life and connects it with the present. Just awesome!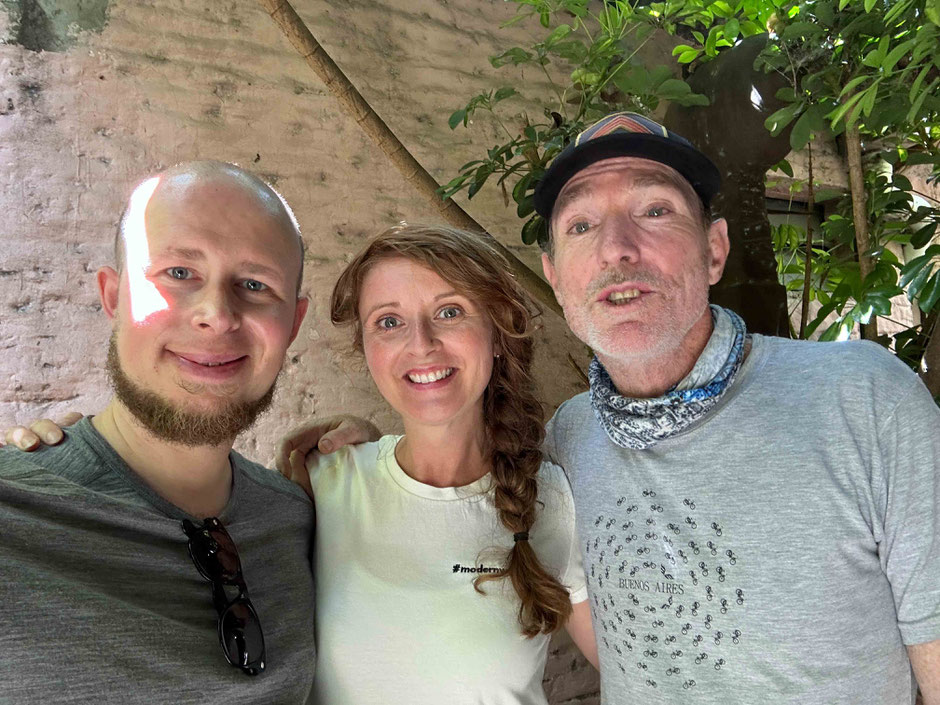 Biking Buenos Aires - Awesome experience!
Check out their website and if you visit them, say hi from us as well. 
https://bikingbuenosaires.com/ 
You want to get a discount? Here is a special Code for you: BikeTheNewWorld