Our arrival in Tirana, Albania after Montenegro was far different than we expected. In preparation of Albania we saw a great documentary about it. So we were a little bit affected by that and expected stunning nature instead of a busy capital. However we spent two weeks there equally busy like the city itself.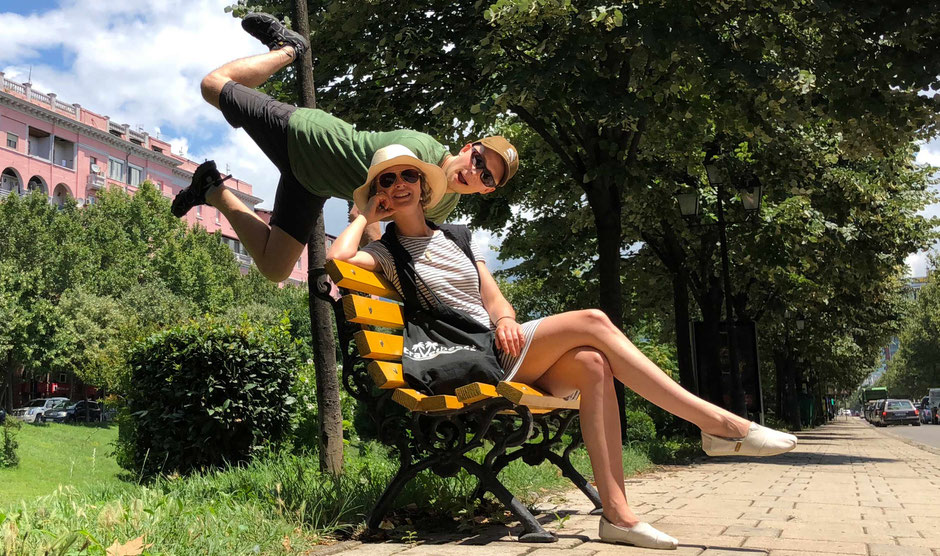 Accommodation in Tirana
We moved four times during our stay in Tirana. First Airbnb flat disappointed us and after a sharp discussion we decided to change. We went out in the rain and found a nice restaurant in the main shopping road in Tirana. The waiter was very friendly. After we organized a new flat via Airbnb he helped us to get a taxi. Fun fact: He ordered Green Taxi because he told us it's the cheapest one. This little taxi startup operate with six electric taxis. From then on we ordered just via WhatsApp and were quite happy with it.
The second flat was great and the total opposite of the first one - clean and clear. Everything was working and we felt homey very soon. There we had time to work, write and prepare meetings. Because we decided to stay longer in Tirana we had to move again and our host offered us another apartment of him for two nights more.
Back after our road trip through Albania we got a new flat again. We rent via Airbnb again in the very center of the city. The place was cozy and interesting because it was a former flat for representatives of a NGO. Only the peculiar cat was a little bit strange and scary.
For our work we moved again in a small but pretty flat near the National Museum even closer to the center of the town. This was the first accommodation in Tirana which had comfy beds. The other beds were stone hard and drove us crazy sometimes. What is it about hard beds and big pillows in Albania?
So, busy town - busy us. We recommend to stay a little bit further from the city part just around the main shopping street - Rruga Myslym Shyri. We liked the district Blloku and the district around Rruga e Barrikadave very well. The first is a bit more trendy and you will find good restaurants or trained babier there. The second is more about local life. You will find schools and kindergarten there. In this district you will also avoid the noisiness of Tirana which is pretty intense.
---
Staying in Tirana
Have you ever stayed two weeks in a city for vacation? In our case it was more a work-stay-vacation thing and we haven't done a lot of sightseeing things. We just lived a little bit in this city and worked a lot, too.
Sometime we made time to scroll around the city. My favorite thing to do in Tirana was looking for nice and funny street art. The new mayor of Tirana coined a initiative to color up the city a little bit more. You will find many different and humorous street arts around nearly every corner. Street art in Tirana has in general a long history and often a meaningful power of different initiatives against the totalitarianism in the country.
A great thing in Albania is that you never stay alone with a problem. Every time we seemed confused or unsure where to go someone showed up and helped us right away. The Albanian people were super friendly and welcoming us very warm. The best and most generous thing that happened to us was at the very last day in Tirana. We were going back to our apartment to prepare and to pack for the ride to Skopje. We wanted to buy some pastries in the bakery we had seen before. When we arrived we found out that we were running out of LEK. We were going to walk away when the baker stopped us and told us to choose anything for free. That was such a nice surprise and we got two delicious rolls for our travelling fare.
What we liked very much in Tirana was that in particular districts you will find a veg stall around nearly every corner. Because we cooked a lot by ourselves we got used to shopping for fruits and vegetable there. It is alway fun when you go shopping at the farmers' market or a veg stall. Actually we were trying to to this at home as well. The products are fresh and the locals probably will give you a fair price for it. We love to communicate just by tooth and nail - it is so much fun. How would you explain without word to cut the melon in four pieces or that we like to refuse a plastic bag? One day we even met an employee of the German embassy. We exchanged contacts but we never heard from him again. But it was fun anyway because our vegetable guy was very interested in our stay in Albania which he translated for us.
One sightseeing thing we actually did! After a super delicious dinner (again with Veerle and Lieke who stayed in Tirana as well for a few days and they -again- did the free guide tour before us!) we climbed up the Pyramid of Tirana. It was fantastic to sit down on the top of it and watch the stars and the city. The best way to climb down again is to sit down like you would like to slide down and to walk on hands and heels down. It's as easy as it looks like.
---
Eating and drinking in Tirana
Most of the times when we ordered something, it was not available and we had to change our order. No matter whether it was a coffee frappe or a traditional Albanian meal. We saved money because of that because we just bought an espresso instead or a salad. But it was a fun fact we collected during our stay in Albania and sometimes it was annoying as well.
We tapped into a few restaurants we would like to recommend in Tirana. The best district to find good traditional and modern food is Blloku. There we even found a ecological food market and a German bakery.
Era Restaurant
This is a fine restaurant with a nice snugly atmosphere which reminded me of an Italian restaurant. They offer a selection of nice Albanian wine and food. It was the last day with Veerle and Lieke so we celebrated with a shared vegetarian starter, for everybody a main dish and afterwards a dessert. Everything was really delicious and we enjoyed it pretty much. Be aware that the bill for the drinks will come with it and will stay on your table. The bill for the food will come afterwards. Embarrassing and uncongenial for us because we paid the first bill and were due to leave when the waiter stopped us friendly and explained the situation to us.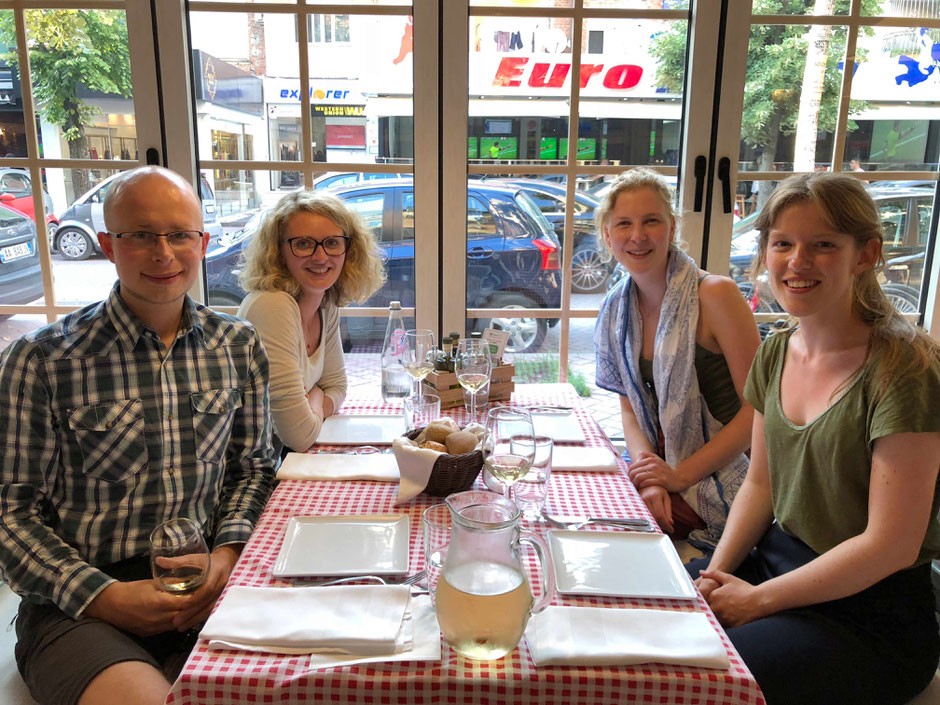 Juvenilja
This restaurant maybe looks unimposing but actually has a great range of really good Albanian meals on the menu. The waiter was a funny and friendly man who explained the menu and gave us some recommendations. He knows where the products are from and tells nice stories about those places. We would recommend the veal escalope on a homemade sauce and a fresh season salad. We really enjoyed this evening with Lieke (it was her last one in Albania and Veerle was already on her way to Greece).
New Mandarine
This restaurant is more a cafeteria and the menu changes daily. The owner uses only regional products to cook with. The yoghurt is homemade and super delicious. It is a nice place where a lot of students and young people walk in to eat "honest food" and chat during the lunch break. Our favorite was the spinach lasagna.
Ges Terraz
It's the rooftop bar at the corner Rruga e Dibres and Rruga Ali Begeja: If you want to sit down and watch the city from above a little bit, we recommend to go there. We actually forgot the name of the bar and couldn't find it anywhere. There were a lot of young people for a coffee or beer. It seemed that you can drink a cocktail in the evening. There are some simple snacks available. The waiter was very friendly and aimed to to his best because he just spoke Albanian.
---
Escaping from Tirana
And last this is our most recommended, discovered highlight insight for your own adventure: Bovilla Lake. If you want to escape the busy and noisy city, there is a huge barrier lake called Ujëmbledhësi i Bovillës just one hour drive from Tirana. Ok, you have to drive an untagged and awkward road but it's totally worth it. Here our proof aerials - enjoy!