We went to Budapest with high expectations towards food but we didn't know that the cuisine would top them. We are amazed by the eating options and can highly recommend going there to fill your belly with awesomeness. What we didn't know: the wine in hungary is very delicious, too. Way better than expected. Due to this we decided to write a blog article only about eating and drinking in budapest because we think it is definitely worth it! In this article we present you our top 11 places to go. One huge tip up front: staying in the Jewish quarter means that you are in the middle of all the good restaurants and bars. It is really THE place to stay.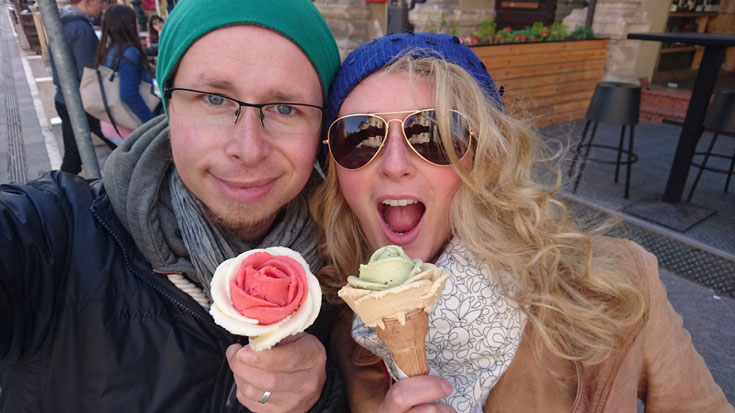 Doblo: Wine - Bar - Home
The slogan matches perfectly to our feeling of this place!
Wine Bar in the Jewish district of Budapest, delicious selection of Hungarian wine and cheese, very friendly and cute staff, live music and a pleasant atmosphere. What we loved here was also the espresso martini. Worth a shot!
Koleves - Vendeglo Stonesoup Restaurant
This Jewish restaurant offers you everything around kosher food: breakfast, lunch, dinner, good wine and especially dessert. We fell totally in love with the Pistachio Tiramisu. Even Nils, who normally doesn't like Tiramisu, was surprised by it. We went there twice during our stay and once just for breakfast and the Pistachio Tiramisu… The quality is excellent and so is the staff.
Our tip: the roasted duck and the typical Jewish tomato eggs with eggplants.
Napos Oldal
Napos Oldal - means bright or sunny side (and it's a really cozy and friendly place)
This place offers you vegan meals. Especially the lunch (which is maybe the Hungarian main meal of the day) has an interesting and healthy selection during the week. It starts with a soup or salad, continues with the main dish and ends with a dessert. The cakes and pastry are also vegan and very tasty. The restaurant is part of an organic grocery store, where you can buy a small selection of daily products.
You can have everything to go, too. On the opposite side is a tiny organic store, which belongs to Napos Oldal. There you can buy vegetables and fruits.
Our tip: the falafel and the mix salad!
2Spaghi
It's an Italian restaurant, which could also be located in Siena, Florence or somewhere else in Italy. An Italian guy runs the place and offers you a native and homemade selection of different pasta and sauces. Delicious! If you are not in the mood to eat there (it's located in Gozsdu udvar - a very nice but also busy alley) you can take everything home and cook fresh pasta like in Italy while being in Hungary :-)
Out tip: the pasta Carbonara!
STIKA
This place is maybe one of the hippest bars in "our" district. It's a nice place because the service is very polite and adheres to a very fancy dress code (the guys wear trousers with suspenders, white shirts and one has a funny mustache). It's a bar which seems to specialize in wines, grapes and coffee. We actually had red wine from Bikavêr (which was tasty) and food (which was even more excellent). The small but fine selection is an interesting and modern interpretation of classic Hungarian food. But you can also find vegetarian dishes. We liked that place because of the unhurried atmosphere and clean interior - when you visit during the early evening you can observe the local people returning home from work.
Our tip: go with the Stika salad or Stika burger!
360° Bar - rooftop Bar in the heart of Budapest
This bar offers you delicious handmade cocktails and a free 360° view of Budapest. It's located on the grand street of the city - Andrassy ut. - where you can find the great opera "Magya Allami Operahaz", on one end the majestic basilica "Istvan Basilica" and on the other the great square "Milleniumi Emlekmu". You can just order a drink and enjoy the 360° view. From spring until fall you can eat at this amazing place as well. And it can be rented for private or business events. We loved it up there and the atmosphere was way better than for example in the Astoria rooftop bar.
Our tip: try a special individualized mix, for example coke, fresh orange juice and rum.
Dobrumba
The Dobrumba offers super tasteful Arabic food on a high level quality. Normally, you have to make reservations a few days in advance. This is a real hipster place with good traditional food. They offer tapas, soups and more. We loved the scenic atmosphere there. It is worth going for that alone!
Our tip: just choose some tapas, it will be hard to be disappointed! The hummus was really good and they have special lunch offers that include a free soup or dessert.
Langos at Hunyadi ter market
You wanna try something typical and cheap that you can just grab and then move on with the city trip? Eat the Hungarian langos with cabbage or cream cheese. It is tasty even though it is not the healthiest food. So only try it once ;-) If you have a little bit of time you can also have a small talk with locals in this place.
Our tip: you can mix your Langos with different fillings - try cream cheese and cabbage together!
Kazimir
This Hungarian bistro in the very center of the Jewish district is maybe inconspicuous at first glance. But nearly every night the place is filled with many people - tourists and locals. The interior is rustic and they serve the food in nice cast iron pans, which we love very much. The food is bistro style but you will find different selections of typical Hungarian snacks.
Our tip: try the goulash soup and don't miss the pancake alla Kazimir - it's great!
Magveto Cafe
It's a Hungarian book cafe from publishing house Magveto.
For people who like to read this is THE place to be. You have books, music, wine, juices, coffee and cake. We loved working there in the nice ambiente. There is even a piano that you can play. If they like it, you get a white wine on the house :-) . You get a good idea about Hungarian writers. The cafe just opened this year (2017).
Kavavan Food Market
The Kavavan Food Market is the best address for good street food. You can choose from a broad variety and have different food trucks waiting for your appetite. The atmosphere is definitely relaxing there and the people are very friendly. It needs to be warm though, because it is outside. Everything is locally produced and directed to a sustainable lifestyle. We loved that!
Our tip: the delicious vegan burger (Las Vegans)
---
Budapest conclusion about eating and drinking
We loved it there. Delicious, friendly and a broad variety of traditional and modern food. We definitely fell in love with the Jewish quarter. If you aren't sure where to go now: just walk around, it will be hard to decide. For some places you may need a reservation, but we tried it without one nonetheless. Only a few times we had to find something different. The coffee culture, which we didn't describe here, is famous and delicious, too! Almost everywhere the espresso, ristretto, latte macchiato were over the top.
What is your favorite restaurant? Did you like the wine? Feel free to share and have fun next time you are in Budapest, enjoying one of our exclusive tips for you!
Nils and Anna
---
Additional top three:
Simpliza
This is a community and bar in the old ruins in the middle of the Jewish quarter. Always busy and full of energy. You want to drink a nice wine or party a little bit? This could be your place to be!
Gelarto Rosa (at the basilica)
Our tip for the best looking ice cream in Budapest is this cozy ice cream parlour in front of the basilica. They serve the ice cream beautifully, looking like a rose. Often you have to wait in line for this sweet treat but it's worth it because it doesn't just looks amazing, it is tasty, too!
Upcoming: Hoppa (vegetarian restaurant)
On our way back in the Jewish quarter, we discovered this new place that had not even officially opened yet. Sitting between family and friends from the head chef we were welcomed super friendly and got some delicious vegetarian food to try. They have a very young chef and ambitious plans to serve the best vegetarian food in the quarter. We wish them all the best! Try it out. Next time, we will definitely visit them to see, how their plans worked out.